Id Software 'will lead' in ray tracing tech, says producer
But Doom studio is prioritising streaming first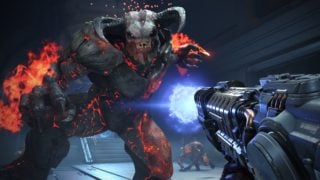 Id Software intends to "lead" in ray tracing technology, similarly to how it has done with other fields in the past, according to executive producer Marty Stratton.
Real-time ray tracing is a headline feature of many high-end PC graphics cards, allowing for realistic reflections similar to that seen in CGI movies.
Currently only a small number of PC games support the feature and very high spec systems are required to use it. Both the PlayStation 5 and Xbox Scarlett will support real-time ray tracing when they launch next year.
Speaking to VGC, Stratton suggested that the tech-savvy company could improve ray tracing performance in the future, similar to how it's improved games over streaming via its new Orion technology.
Stratton said Doom Eternal will support real-time ray tracing via Nvidia's RTX graphics cards, although it's not clear if the feature will be available at launch.
"We'll probably get into [ray tracing] further down the road with Doom Eternal, but our rendering team is among the best in the industry," he said.
"Ray tracing is just a matter of priority for us. Any time we take a technical step we're looking at how we can lead in that area. With Vulkan, VR and streaming we were leaders and ray tracing will be no different."
The producer said that currently Id is prioritising streaming technology, including its own suite of tools – called Orion – which improve performance over services like Google's Stadia.
"The team has been spending a lot of time looking at [ray tracing], we just haven't gone fully down that road yet because we're just so focussed on Doom Eternal and getting that out," he explained.
"Ray tracing is about better visuals but not necessarily more users, so that's where we look at something like streaming and make it a priority overall for us, because it means more people can play games.
"Ray tracing is about playing games with a greater visual fidelity, which is awesome and we will lead when it comes to that for sure, but that's how it gets stacked internally for our team. We really want to get the game out and that's what everyone is focussed on."
Doom Eternal will release on November 22, 2019. Read our full Doom Eternal interview for more from Id's Stratton.