Id Software to remove Doom Eternal's Denuvo anti-cheat
Studio says decision not related to quality of product following game issues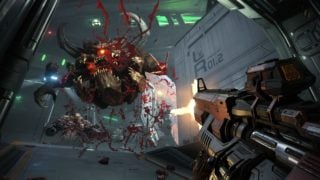 Id Software has confirmed it's to remove the controversial Denuvo anti-tamper technology from Doom Eternal in the game's next PC update.
The anti-cheat tech and DRM scheme, which is designed to prevent piracy, was added to the game in mid-May as part of Doom Eternal's first major update, some two months after launch.
Denuvo has been criticised for its alleged high CPU usage during gameplay, which is claimed to significantly affect performance and frame rates.
Its introduction to Doom Eternal coincided with the onset of several problems, but writing on Reddit, executive producer Marty Stratton said performance and stability issues introduced in the update weren't related to the introduction of anti-cheat.
"Despite our best intentions, feedback from players has made it clear that we must re-evaluate our approach to anti-cheat integration," he said.
"As we examine any future of anti-cheat in Doom Eternal, at a minimum we must consider giving campaign-only players the ability to play without anti-cheat software installed, as well as ensure the overall timing of any anti-cheat integration better aligns with player expectations around clear initiatives – like ranked or competitive play – where demand for anti-cheat is far greater.
"It is important to note that our decision to include anti-cheat was guided by nothing other than the factors and goals I've outlined above – all driven by our team at id Software. I have seen speculation online that Bethesda (our parent company and publisher) is forcing these or other decisions on us, and it's simply untrue.
"It's also worth noting that our decision to remove the anti-cheat software is not based on the quality of the Denuvo Anti-Cheat solution. Many have unfortunately related the performance and stability issues introduced in Update 1 to the introduction of anti-cheat. They are not related."
Stratton said Id Software has identified and fixed several crashes in its code related to customisable skins, as well as other memory-related crashes. It's also planning to revert a code change it made around VRAM allocation that resulted in performance issues for some players.
Id Software hopes to release Doom Eternal's next PC patch within a week.
Capcom removed Denuvo from the PC version of Devil Mary Cry V in February, resulting in claims of drastically improved framerates of up to 20fps for some users.
Death Stranding will use Denuvo for its PC release this summer.