Official: $300 / £250 Xbox Series S is Microsoft's second next-gen console
Microsoft promises "next-gen performance in the smallest Xbox ever"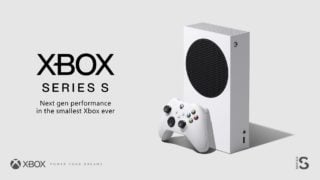 This article was updated at 8:20am and 10am BST with additional information.
Microsoft has officially announced its second next-gen console, Xbox Series S with a price point of $299 – the same as its current-gen hardware.
In Europe, Xbox Series S will retail for €299.99, it was confirmed. In the UK the console will retail for £249.99.
Later on Tuesday, Microsoft confirmed Xbox Series S will launch on November 10. The release date was confirmed in a promotional video released on Tuesday and means the console will launch on the same week as key titles such as Call of Duty: Black Ops Cold War and Yakuza: Like a Dragon.
The long-expected Series S leaked overnight via journalist Brad Sams, who revealed an image of the Series S console's design along with confirmation of the price point.
Microsoft later confirmed the leaked info and positioned Series S as "next-gen performance in the smallest Xbox ever". More official details on the hardware will be shared soon, it said.
The Series S design looks similar to Microsoft's current-gen Xbox One hardware, albeit with a large vent on one side. It also does not appear to include a disc drive.
Series S's hardware specs are not yet known, but it's expected to be capable of four teraflops of computing power, compared to the 12 of Series X.
UPDATE 10AM BST: Xbox Series S will support ray-tracing and run games at upscaled 4K up to 120fps, according to a leaked promotional video.
Xbox Series S is an "all-digital" console which like Series X will include a custom NVME SSD (though at 512GB, compared to 1TB), powered by Xbox's Velocity Architecture for "incredibly fast load times," the video says.
Series S will also support Direct X ray-tracing and will run games natively at 1440p and up to 120fps. It's also capable of running games at upscaled 4K and can stream media at the higher resolution.
ORIGINAL STORY CONTINUES: Although the system is less powerful than Series X, it has previously been claimed Series S could still offer aspects of the next-gen experience currently unavailable on current-gen consoles, possibly in the form of faster SSD loading speeds and limited ray-tracing at 1080p.
"This will be the true entry point for next-generation gamers, most likely on a 1080p display," Brad Sams said in a video on Tuesday. "If you want the 4K experience, obviously you're going to have to buy the Series X, but the Series S I think is going to be probably the primary seller for Microsoft."
The $299 price point suggests Microsoft could mirror its Xbox One S / One X pricing and set the more powerful Series X at around $499.
Windows Central's sources suggest this will be the case and VGC has also independently been told that Microsoft is targeting $499 for Series X and expects Sony to do the same with PlayStation 5.
Windows Central claims that both Xbox Series S and X will launch on Tuesday, November 10. According to a previous VGC report, Xbox Series X and S will launch before PS5.
Sony is also set to release a cheaper PS5 Digital Edition with no disc drive, although it will otherwise have the same specs as the standard console.
Microsoft seemed to first acknowledge the Series S leak on Tuesday when it posted a meme on its official Twitter account.
Prior to today's reveal, Xbox Series S was something of an open secret. The unannounced console was seemingly referenced on official Microsoft merchandise on two occasions in August, while recent software classifications seemingly pointed to an imminent Series S announcement.
Series S development kits are understood to have been with studios for several months, with next-gen Xbox developers expected to support both Series X and Series S in a setup similar to the existing Xbox One X and Xbox One S consoles
In July, Microsoft confirmed it would halt production of its Xbox One X and Xbox One S All-Digital Edition consoles, seemingly in preparation for the arrival of Xbox Series S.