Huge GTA 6 leak sees over 90 alleged videos circulated
Over an hour of development footage has been posted online, originator claims to have source code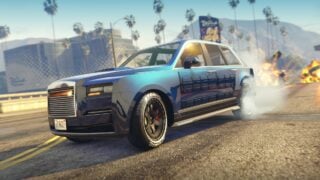 Over 90 alleged videos from a development build of Grand Theft Auto 6 have been leaked onto social media.
First posted to the GTA Forums by user tepotuberhacker,  the footage includes open-world gameplay which is alleged to be from GTA 6, and they appear to be legitimate. It's claimed by the leaker that the videos were downloaded from Slack.
If legitimate, the leaked build confirms the previous reporting that the game would take place in Vice City.  Bloomberg reported earlier this year that the game, which it claims began development sometime in 2014, is "at least two years away".
"Rockstar's next game, Grand Theft Auto VI, will include a playable female protagonist," Bloomberg adds, citing sources familiar with the game.
"The woman, who is Latina, will be one of a pair of leading characters in a story influenced by the bank robbers Bonnie and Clyde, the people said. Developers are also being cautious not to "punch down" by making jokes about marginalized groups, the people said, in contrast to previous games."
If correct, this is reflected in the leaked alpha build which features both a playable male and female character, although these models could be a placeholder at this stage.
Bloomberg reported Jason Schreier has commented on the leaks stating that "based on the scale, it's hard to imagine they're not real."
A YouTube video of the leaked build shows a character running out of a store during a shootout with the police. This is one of the longest pieces of footage to come from this leak, as most of them are only a few seconds long.
Another YouTube video shows the female character walking through a strip club, which is densely packed with NPCs. An advert for Pißwasser, the GTA universe's beer, can also be seen in this clip, adding to the legitimacy.
Footage of a character walking through a "Vice City Metro" train has also been posted, adding to the evidence that the game will take place in the Miami-inspired location.
One clip posted to Twitter appears to show how the shooting mechanics in the game will work when driving in the game. Another shows off the conversation system, as well as robbing a fast food store.
A clip showing the male protagonist walking into a store has also been posted. A tag labelled "robbery" in the top corner can be seen.
The user who posted the initial leak on the GTA Forums also claims to have the source code of GTA 6 and GTA 5 and is threatening to publish it in full. They have posted snippets in screenshots, but VGC can't verify the legitimacy of their claims.
They also claim to have a test build of a game that they could release, should they desire.
Further evidence of the veracity of the footage is that the open world shown in brief snippets includes car brands that have been included in previous titles such as Vespucci.
The footage includes a new conversation mechanic similar to that included in Rockstar's western epic Red Dead Redemption 2.
Industry insider Tom Henderson claimed last July that Grand Theft Auto 6 would release in either 2024 or 2025, partly due to Rockstar's new focus on employee wellbeing following criticism of its alleged crunch culture. At the time, his claims were backed up by Bloomberg journalist Jason Schreier, as well as VGC's own sources.
Last month, a Rockstar insider who's accurately leaked information about the company's games in the past claimed remasters of GTA IV and Red Dead Redemption "were on the table a few years ago" but are no longer planned.
Kotaku later backed up the claims. Citing sources with knowledge of Rockstar's plans, it said the studio has—temporarily at least—parked the remasters to fully focus on GTA 6.