PS5 event: Horizon Zero Dawn composer teases potential reveal
Musician 'wonders what they will be showing'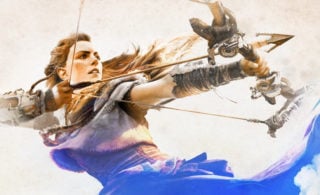 Guerrilla Games composer Joris de Man has teased a potential announcement during today's PS5 games reveal event
The Ivor Novello winning composer, who composed the music for Horizon Zero Dawn and its DLC expansion, quoted Sony's PS5 event tweet on Thursday and wrote: "Excited! Wonder what they will be showing today…..:)"
Joris de Man has worked with Guerrilla Games on each of its releases since 2004's Killzone.
VGC recently revealed that PlayStation and Guerrilla Games are planning a trilogy of Horizon Zero Dawn games, following the success of the 2017 original.
Update, June 11: Guerrilla Games has officially announced Horizon 2: Forbidden West for PlayStation 5.
Original story continues: Amsterdam-based Guerrilla had always desired to deliver a series of Horizon games – and a multi-part script was written – but the plan was only officially agreed after the original game's strong debut on PlayStation 4, VGC was told.
UPDATE: Julie Elven, the lead vocalist on the original Horizon Zero Dawn soundtrack, has also shared her excitement for the PS5 event:
ORIGINAL STORY CONTINUES: Horizon Zero Dawn was both a commercial and critical success, with sales surpassing 10 million and the team going on to win the 2018 BAFTA Games Award for Original Property.
PlayStation is planning to lay the groundwork for the PS5 sequel with the release of Horizon Zero Dawn on PC this summer, as well as a Horizon Zero Dawn comic book series co-created by Anne Toole, one of the writers of the game.
Set to be published by Titan in August, the original comic series takes place after the events of the PS4 game, which is set in a far-future earth reclaimed by nature and ruled by animal-like machines.
The Comic follows Talanah, a strong and determined hunter, who struggles to find purpose after her trusted friend Aloy – star of the PS4 game – disappears.
Sony's PS5 reveal event is set to start at 1pm PT / 9pm BST.