Horace is now free on the Epic Games Store, with The Bridge next
Epic reveals latest free title coming to its digital storefront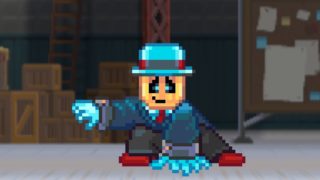 Horace is now free to download from the Epic Games Store.
Developed by Paul Helman and Sean Scapelhorn, the indie platforming adventure normally costs £10.99 and has a Metascore of 81 based on nine reviews.
It will be available free on the Epic Games Store until 11am ET / 8am PT / 4pm UK on January 23.
Epic announced on Thursday that the next free game, The Bridge, will be available from January 23-30.
"The Bridge is a logic puzzle game that forces the player to reevaluate their preconceptions of physics and perspective," according to publisher The Quantum Astrophysicists Guild, which originally released the title in 2013.
"It is Isaac Newton meets M.C. Escher. Manipulate gravity to redefine the ceiling as the floor while venturing through impossible architectures."
It was announced on Tuesday that the Epic Games Store's weekly free game promotion has been extended throughout 2020.
Epic originally launched a bi-monthly free game offer alongside its PC storefront in December 2018 but said in May 2019 it was increasing the frequency of the offer to one free game per week.
73 free games worth $1,455 have been given away to date, according to Epic. The titles have an average review score of 80 on OpenCritic and have been claimed over 200 million times.
Epic also said its store has amassed 108 million PC customers who have spent $680 million since launch.
Looking ahead, it promised "tons of amazing titles coming exclusively to the Epic Games Store in 2020" plus "many more cross-platform games" like Fortnite and Dauntless.