Hitman studio announces new console and PC game
"New universe" in development at IO Interactive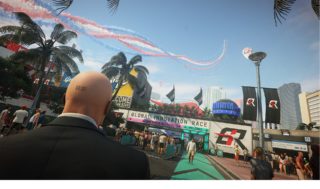 Hitman studio IO Interactive is working on a new console and PC game set to be published by Warner Bros. Interactive Entertainment (WBIE).
IO Interactive CEO Hakan Abrak said on Thursday the company is creating a "new universe" across its Danish studio in Copenhagen and its recently opened Swedish studio in Malmö, both of which are recruiting.
WBIE president David Haddad said: "IO Interactive has a longstanding legacy of creating iconic games, and we're looking forward to partnering on this next endeavour to bring a new console and PC gaming experience to players globally."
IOI's Abrak said: "IO Interactive has a proud history of creating compelling characters and universes for our players to enjoy—it's in our DNA. As we embark on this exciting project to create a new universe for IOI together with Warner Bros., we're currently looking for ambitious talent to join our team in our Copenhagen and Malmö studios for this extraordinary journey."
Warner Bros. and IO Interactive previously partnered for the release of several titles including 2018's Hitman 2 and Hitman: Definitive Edition, and 2019's Hitman HD Enhanced Collection.
In a Noclip documentary published in July, it's claimed that IO is looking ahead to Hitman 3, a game which Abrak reportedly said may once again go episodic.
But IOI's CEO also says: "We're looking into the future with new things, potentially new IPs that we might be working on. We've created four original IPs from scratch.
"We've always worked on and created these new characters and worlds and what not, it's a part of our DNA, and I'm looking forward to bringing new stuff as well, apart from growing Hitman into the world."