Hideo Kojima says he shelved a game concept due to 'similarity to The Boys'
Kojima wanted Mads Mikkelsen to star in the canned project idea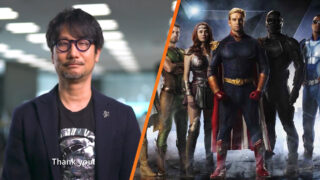 Hideo Kojima has claimed that he recently shelved a project he's been considering "for a long time" due to its similarity to the Amazon series The Boys.
Speaking on Twitter, the mind behind Metal Gear Solid and Death Stranding said that he "put it on hold because the concept was similar (different settings and tricks)," to the Amazon show.
"A buddy (male/female) thing with a special detective squad facing off against legendary heroes behind the scenes," Kojima said. "I was thinking of Mads [Mikkelsen] as the lead."
It's unclear whether Kojima meant a game or a project in a different medium, especially as Kojima Productions seeks to expand into multi-media. 
The Boys first premiered on Amazon in 2019, which would mean that this project could have potentially been Kojima's next project following Death Stranding.
However, as Kojima says, this didn't come to pass. He's now working on a recently confirmed Cloud-based game with Xbox.
It's possible that this game is Overdose, a horror game starring Death Stranding's Margaret Qualley, which emerged earlier this year. 
Reliable industry insider Tom Henderson claimed to have received early footage of the game.
Following this report, Henderson claimed that Kojima Productions had reached out to request its removal. If true, it would appear to lend weight to the claims made in the story.
Kojima has teased his next project ever since the release of Death Stranding in November 2019. That month, he suggested he was watching horror movies in preparation for a future project, and in April 2020 he said he'd like to make a "revolutionary" horror game one day.