Hideo Kojima breaks silence on 'Abandoned' conspiracies: 'It's really quite a nuisance'
Blue Box Game Studios and Hasan Kahraman have both seemingly stepped away from the internet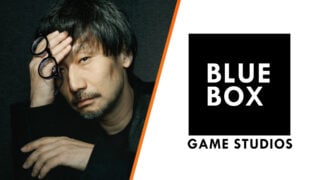 Hideo Kojima has spoken openly for the first time about the controversial indie title Abandoned and the theory that he is involved in some way.
Speaking on his Spotify podcast, Brain Structure, as part of a new episode featuring Geoff Keighley during which the pair talked about gaming rumours, the Death Stranding director addressed the speculation that he was involved with Abandoned, a horror game from developer Blue Box Studios.
"Users just kept sending me pictures of this 'Hasan'," Kojima said told Keighley. "They still send me collages and deep fake images, like twenty a day, it's really quite a nuisance. [laughs]"
Aside from a brief teaser, virtually nothing from the game has been shown of Abandoned. Despite repeated delays, a playable prologue, which Hasan claimed "will fund" the final game, has yet to materialize. 
While the connections to Hasan and Kojima has always been tenuous, that didn't stop a Reddit community from being born to track the supposed connections between the director and Hasan. R/TheBlueBoxConspiracy, which at the peak of its popularity saw around 9 thousand subscribers, documented every move made by Kojima or Hasan in an attempt to link the two.
This went as far as users discovering that Hasan had previously developed an exercise app, the description of which listed it as a "Personal Training (PT) app," which sent devotees of the subreddit into a panic over the idea that this was in fact a reference to P.T., the cancelled, then wiped from storefronts teaser for Silent Hills, a reboot of the horror franchise that Kojima was once attached to helm.
Other supposed clues included Hasan playing a game on his PSN profile that isn't available on the PS Store, however, this was debunked as he could have been testing a product that hadn't been submitted for certification on his own account.
Hasan appeared to play this mystery up, potentially because it was generating a significant amount of buzz for a completely unknown studio and a project that had essentially released nothing resembling gameplay or a final product.
The studio did release an app that was reported to be some kind of prelude to the release of the prologue itself, however, in reality, users discovered that the app was essentially a screen saver made up of publically available assets.
"When we did that Moby Dick thing, you [Geoff] were in on the whole thing, and that was pretty fun, but people should know that I wouldn't do the same thing twice," Kojima said in his podcast.
The "Moby Dick thing" Kojima refers to is a fake studio that Kojima created before the announcement of Metal Gear Solid 5. "Moby Dick studios" released a trailer for The Phantom Pain. However, eagle-eyed viewers of the trailer noticed that the logo for the fake game featured cut-outs into which the words "Metal Gear Solid 5" could fit.
Fans speculated that Blue Box Studios and Hasan could be further inventions of Kojima.
"I have never spoken with Hasan, the game is yet to be released. I don't think there's much he can do or say at this point. But if he releases the game, people might understand, so maybe he should just hurry up and release it."
Hasan hasn't spoken publicly about the game in some time, and his tweets are currently protected. In April, Blue Box Game Studios tweeted asking fans if they wanted to see "development footage of Abandoned: Prologue," however nothing came of this.