Hidden Last of Us Part 2 multiplayer assets may hint at plans for a battle royale
Naughty Dog is currently working on its first standalone multiplayer game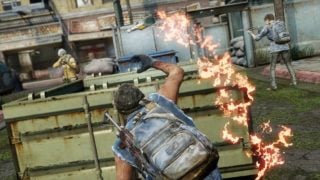 Multiplayer assets reportedly buried in The Last of Us Part 2 files may offer clues as to Naughty Dog's plans for its upcoming Factions sequel, including a possible battle royale mode.
The studio announced in September 2019 that Last of Us Part 2 wouldn't include a multiplayer component as originally planned because it had decided to focus all its resources on making the biggest single-player game in its history.
While a new Last of Us multiplayer offering was seemingly shelved until work on the sequel was complete, a recent datamine hints at what Naughty Dog had in the works at one stage.
Content creator Speclizer, who specialises in "modding and exploration" videos, now claims to have unearthed various leftover multiplayer assets, most notably a map prop which would have been used in multiplayer.
The locations, which include Adler Park, Camallito and Port of Camallito, suggest it would have been made up of several single player areas merged together to create a map large enough to host a battle royale mode, with points of interest including Motel, Gas Station and Estate.
"Didn't mention it in the video but in the development footage, there's a compass and a player count which is usually only used in battle royales," Speclizer wrote in a pinned comment accompanying the video. "Oh and there's also an emote wheel script."
Speclizer also claims to have uncovered several multiplayer-related items. These include a 'Listen-Mode Device', which it's speculated could be required to use Listen Mode in multiplayer, 'Collar', which may or may not relate to the inclusion of dogs, which were a significant enemy addition in Last of Us Part 2, and 'Handheld-TV'.
They also allegedly found but have not yet been able to restore a series of multiplayer backpack and armour models.
Last month, Speclizer published a video revealing a Last of Us Part 2 bug that enables players to actually catch up with Tommy and kill him as Abby during the sniper rifle chase scene which takes place in the location described as Port of Camallito in the multiplayer map prop.

"You will eventually experience the fruits of our team's online ambition, but not as part of The Last of Us Part II," Naughty Dog said in 2019. "When and where it will be realized is still to be determined. But rest assured, we are as big a fan as Factions as the rest of our community and are excited to share more when it's ready."
According to job listings spotted in June, "Naughty Dog's newest adventure" will be its "first standalone multiplayer game".
"We're seeking to bring the same level of ambition and quality of our signature, story-driven games to this unique multiplayer project," the job ads read. "This is a rare opportunity to make an impact in your discipline and craft an experience that will be enjoyed and shared by millions of players around the world."
Related Products
Other Products
Some external links on this page are affiliate links, if you click on our affiliate links and make a purchase we might receive a commission.