Hidden Elden Ring files could point to a potential bestiary
Over 100 hidden images have been uncovered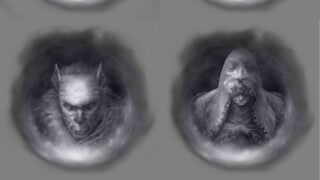 A series of hidden Elden Ring files could point to the idea that a bestiary was once planned for the game.
Discovered by Twitter user @JesterPatches, a series of images representing enemies and NPCs throughout the game are leading players to believe that a bestiary, which players would complete by defeating the enemies, was once planned.
Each image has been found in two forms, one in a darker, hard to see version, and another clear, bright version. This has led players to believe that the two different forms of the image represent when a character was found versus not found.
JesterPatches notes that no "major bosses" are in the files, implying that this was planned as a way to establish which of the regular enemies throughout the game you have defeated.
Major bosses typically drop an item, or grant the player a Trophy or Achievement, so there's a more tangible way of noting which you've bested.
Since its release, a large amount of cut content from Elden Ring has been discovered by eager players. We reported that players managed to find a pair of underwear that seem to have been cut late in development. 
Elden Ring - The VGC review
The Deathbed Smalls are a pair of underwear that can only be obtained via cheating, but the item has a full list of stats, which implies the item was originally planned to be included in the game.
Players have even discovered an area believed to be planned for future DLC.
As found by Lance McDonald, by using a mod to go out of bounds next to a large, inaccessible arena in the game, players have been able to find a completed multiplayer arena, which has led many to speculate that it will arrive as part of DLC soon.