Here's your first look at Elden Ring character creation
Check out all the character creation options available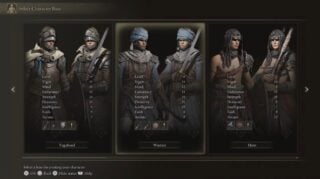 Ahead of Elden Ring's release, we've published the video below offering the first detailed look at the game's character creation options.
The game features a robust character creator with hundreds of options, offering a significant step-up from past FromSoftware games which were notorious for the monstrous creations that players could create.
While players can still create some awful looking characters, it's now possible to create a genuinely impressive hero, as opposed to a strange pink guy with a sword.
The popular 'similar face' feature, which generates a new face based on the one you've created, often with horrible results, is still in the game.
Following a one-month delay, Elden Ring will be released on February 25 for PS5, PS4, Xbox Series X/S, Xbox One and PC.
In our Elden Ring review, we called it "a fantastic game that can still deliver the unmatched thrill of defeating a tough boss after an hours-long battle.
"Those who worship at the church of Souls-like will find a game that's basically everything they ever wanted. There are more bosses than ever, more areas to explore, and so much lore to find that the digital archaeologists of the Souls community will be kept busy for years."
Elden Ring publisher Bandai Namco has announced it will be making 100 players official 'Elden Ladies and Lords' as part of a competition.
In collaboration with Highland Titles, the publisher will give 100 winners a certificate declaring them an 'Elden Lady' or 'Elden Lord'.
While the titles are said to be not the same as having a hereditary title, Highland Titles claims they can be used on legal documents and are light-hearted fun.  "Our customers have shared stories of everything from flight upgrades to preferential treatment," it claims.
Each winner of Bandai Namco's competition will also receive "a souvenir plot of land" at the Highland Titles Nature Reserve near Glencoe in Scotland.