Here's the opening scene from Nextflix's Resident Evil: Infinite Darkness series
Watch the first minutes of Capcom's CGI show
Netflix has posted the opening scene from its upcoming Resident Evil animated series.
The first few minutes of Resident Evil: Infinite Darkness shows soldiers in a warzone in the fictional country of Penamstan, where bio-weaponry is being used.
The clip shows that the scene is set in the year 2000, which puts it two years after the events of Resident Evil 2 and 3, but four years before the events of Resident Evil 4.
Resident Evil: Infinite Darkness is due to appear on Netflix on July 8, and revolves around a zombie outbreak at the White House.
A new trailer released last month shed some more light on its plot and also showed some interesting new creatures, including a zombie pig.
A plot synopsis released by Netflix in March revealed that Nick Apostolides and Stephanie Panisello – the voices of Leon and Claire from the Resident Evil 2 remake – would be returning to reprise their roles.
"In 2006, there were traces of improper access to secret Presidential files found in the White House's network," the summary begins.
"American federal agent Leon S. Kennedy is among the group invited to the White House to investigate this incident, but when the lights suddenly go out, Leon and the SWAT team are forced to take down a horde of mysterious zombies.
"Meanwhile, TerraSave staff member Claire Redfield encounters a mysterious image drawn by a youth in a country she visited, while providing support to refugees. Haunted by this drawing, which appears to be of a victim of viral infection, Claire starts her own investigation.
"The next morning, Claire visits the White House to request the construction of a welfare facility. There, she has a chance reunion with Leon and uses the opportunity to show him the boy's drawing.
"Leon seems to realize some sort of connection between the zombie outbreak at the White House and the strange drawing, but he tells Claire that there is no relation and leaves. In time, these two zombie outbreaks in distant countries lead to events that shake the nation to its very core."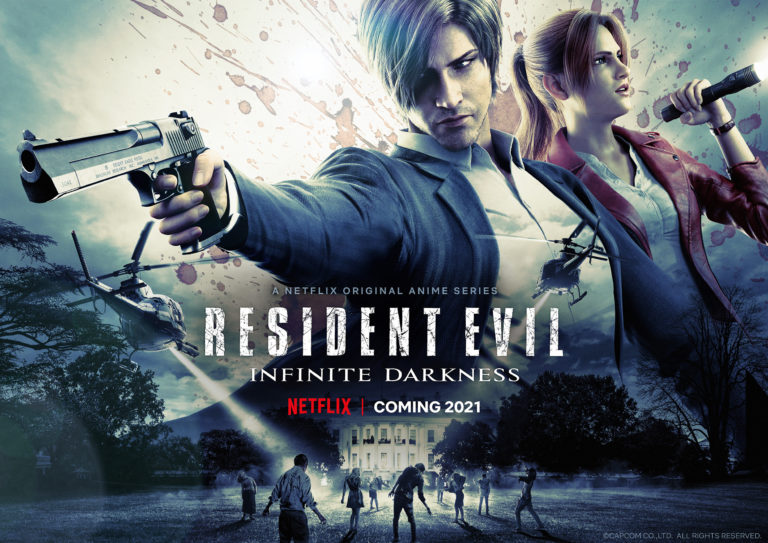 Originally thought to be a movie, Infinite Darkness will be an animated series produced by Japanese studio TMS Entertainment (Akira, Lupin the Third, Little Nemo) and animated by Japanese studio Quebico.
Infinite Darkness isn't the only Resident Evil content coming to Netflix. In August 2020 the streaming platform also announced a live action series is being developed by German production company Constantin Film, which is also behind the upcoming Resident Evil movie reboot.
According to Netflix's synopsis, the show will feature "the Wesker kids" as they uncover secrets inside of New Raccoon City. Albert Wesker is one of the primary antagonists in the Resident Evil games.
"When the Wesker kids move to New Raccoon City, the secrets they uncover might just be the end of everything," it says.