Here's the first look at Spider-Man 2 gameplay on PS5
Insomniac Games' sequel is reportedly on track for fall 2023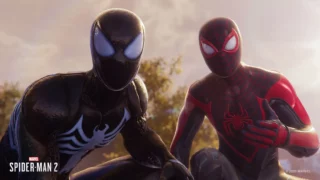 PlayStation and Insomniac Games have revealed the first gameplay video for Spider-Man 2, which is planned for release on PS5 in fall 2023.
The gameplay reveals several new features as well as a key villain, Kraven the Hunter.
"This version makes his debut appearance in Marvel's Spider-Man 2 and he's in search of an equal," explains senior community manager, Aaron Jason Espinoza.
"That spells bad news for the inhabitants of Marvel's New York including a rogue's gallery of villains and the Spider-Men, Peter Parker and Miles Morales. Between the start of Kraven's Great Hunt and an all-new Symbiote threat to Earth-1048, our heroes have their work cut out for them.
"Setting the stage for our gameplay reveal: Kraven's Hunters, a new enemy faction, are in pursuit of Dr. Curt Connors, AKA The Lizard, and Peter needs to stop him. We kick things off at Connors' home across the East River in Queens, one of the all-new playable and explorable boroughs we're introducing in Marvel's Spider-Man 2. "
Players will  seamlessly switch between both Spider-Men across a variety of story moments in Spider-Man 2, according to Insomniac. Peter Parker now dons a black Symbiote suit, which offers unique abilities.
"We're no stranger to Spider-Man knocking heads, but never like this: he's much more aggressive and punches certainly aren't being pulled. Symbiote tendrils aggrandize Spider-Man's silhouette, slamming foes against hard surfaces, dealing no mercy to Kraven's Hunters."