Here's the first look at real Battlefield 2042 gameplay
EA premieres gameplay trailer during Xbox and Bethesda Showcase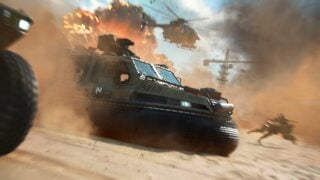 Electronic Arts has released the first gameplay trailer for Battlefield 2042.
EA and developer DICE revealed the first details on 2042 earlier this week. The multiplayer-only instalment will support 128-player battles on "massive-scale" maps filled with dynamic weather and other environmental hazards.
On the last-gen Xbox One and PlayStation 4 consoles, the max player count will be 64-players and maps sizes will be reduced, DICE said.
EA said it will invite US and Europe-based "Battlefield veterans" to a closed technical playtest in early July, followed by an open beta sometime before October.
"In Battlefield 2042, the world is on the brink," reads EA's official synopsis. "Shortages of food, energy and clean water have led to dozens of failed nations, creating the greatest refugee crisis in human history.
"Among these Non-Patriated, or No-Pats, are families, farmers, engineers – and even soldiers. Amidst this crisis, the United States and Russia draw the world into an all-out war. No-Pat Specialists join both sides, not fighting for a flag, but for the future of the Non-Patriated in this new world."