Here's everything that was announced at Day of the Devs
See all 15 games shown during the Summer Game Fest presentation
The Summer Game Fest 2023 edition of Day of the Devs has just ended.
Originally founded in 2012, Day of the Devs is a regular showcase hosted by Double Fine and iam8bit designed to promote upcoming indie games.
The latest show featured a total of 15 games, and we've got details and screenshots for all of them below.
Whether you missed the show (in which case you can catch up on it here), or just want a closer look at the games in more detail, here's all 15 titles, in the order they were shown.
---
Beastieball
Wishes Unlimited, 2024
This RPG looks similar to Pokémon, but rather than taking part in turn-based battles your creatures (known as Beasties) take part in turn-based volleyball matches instead.
Each Beastie has a unique personality and teamwork style, which helps them build different types of relationships with other Beasties and learn various combo moves as a result.
The aim is to progress through the game's story and win the Beastieball League.
---
Hyper Light Breaker
Heart Machine, early access later in 2023
Announced last March, the follow-up to 2016 action RPG Hyper Light Drifter shifts from the original game's 2D perspective to a new 3D one.
"Hyper Light Breaker is neither a sequel nor a prequel to Hyper Light Drifter," according to developer Heart Machine.
"It is set in the universe of Hyper Light and is its own story. It will share threads, aesthetics, lore and other recognizable elements, but will be a new game driven by new designs."
---
Simpler Times
Stoneskip, 2024
Developed by Transylvanian studio Stoneskip, Simpler Times is described as "an experimental, interactive meditation that rewards patience and attention with poignant moments that can be replayed like a favourite song".
The game has you playing as a young woman called Taina as she prepares to move out of her childhood home.
The player relives Taina's memories and finds out more about her personality, without any timers or fail states, and is able to "listen to music, paint, watch nature, take photos, browse books, read notes and solve puzzles".
---
Viewfinder
Sad Owl Studios, July 18
Viewfinder has been shown off a number of times in the past, and previously won Europlay 2021, the 'Eurovision of video games', but it's finally nearing release.
The game is a unique puzzle adventure in which players can hold up photographs in front of them, which in turn form part of the environment.
A PS5 demo is available to download today, and the game will be released next month.
---
Hauntii
Moonloop Games, 2024
Coming to PC and consoles next year, Hauntii controls similarly to a twin-stick shooter but is instead about haunting the citizens of a mysterious world and its environment.
By haunting certain objects, players can manipulate the world to solve puzzles.
According to its developer, "Hauntii is set in Eternity, a place that exists outside of space, where all souls eventually end up. No ghost can truly die in Eternity, but all can be led astray, corrupted into hellish versions of their former selves."
---
Cart Life
AdHoc Studio, Q3/Q4 2023
Cart Life was a critically acclaimed indie game which was released in 2010, but was then pulled in 2014 by its developer Richard Hofmeier.
The retail simulator won three awards at the Independent Games Festival, and was heralded by some publications as one of the best indie games ever.
Now the game is being re-released by AdHoc Studio, allowing those who missed out the first time around to finally buy it.
---
Helskate
Phantom Coast, early access in early 2024
Clearly designed with the Tony Hawk games in mind, Helskate is a "skateboarding action roguelite" in which players perform tricks and chain combos to power up their attacks.
Set in the world of Vertheim, players can collect weapons and gear as they use their skating-themed attacks to battle against the Gods of Skating.
Players will also be able to take on score challenges, hosted by the God of Vert Ramps.
---
Henry Halfhead
Lululu Entertainment, release TBC
This sandbox adventure game stars a character called Henry who is literally the top half of a head.
Henry can roll around, but can also possess and control any object within his reach.
The aim is to use the objects dotted around each stage and combine them to complete tasks and progress through each stage.
---
Cocoon
Geometric Interactive, 2023
Published by Midas-touched indie publisher Annapurna Interactive, Cocoon is developed by new studio Geometric Interactive, which was co-founded by Limbo and Inside gameplay designer Jeppe Carlsen, and award-winning programmer and composer Jakob Schmid.
According to the studio, Cocoon "takes you on an adventure across worlds within worlds", as players "master world-leaping mechanics to unravel a cosmic mystery".
The game is a puzzle adventure, where players leap between worlds, with the twist being that each world exists within a small orb which is carried on the protagonist's back.
---
Été
Impossible, early 2024
Été is described by its developer as "a relaxing painting game that mixes exploration, creativity and story elements".
Players control a painter who decides to travel to Montreal for a summer holiday in search of inspiration.
Using their paintbrush, the player explores the city and colours in the world, collectings stamps for their sketchbook which can then be used in commissions requested by the city's locals.
---
Summerhill
Land & Sea, release TBC
Created by the team behind the critically acclaimed mobile games Alto's Adventure and Alto's Odyssey, Summerhill is described as "a tale about life, loss and livestock".
The game follows a young shepherd and their dog, as they travel beyond the borders of their home in an attempt to find and herd their missing sheep.
As players explore the ancient landscape and discover contraptions which open hidden pathways, they have to solve increasingly difficult puzzles to get their sheep home.
---
Eternights
Studio Sai, September 2023
Eternights is a "dating action game", which is part visual novel dating sim, part hack n' slash adventure.
Something mysterious has been turning humans into dangerous monsters craving violence and power.
Players have to find a cure and find love at the same time, with the outcome of the dating sim elements having an impact on both the story and the combat.
---
Retro Gadgets
Evil Licorice, early access available now
Retro Gadgets is a sandbox workbench simulation where players can "invent, build, solder, code and customise your own electrifying gadgets then share them with the world".
Players are able to build the likes of weather machines, lightboards, radios, drum machines, and even video game consoles (with the ability to write the code for them to create working games).
The game boasts an ever-growing collection of components including "buttons, switches, dials, gauges, lights, LEDs, LCDs, chips, joysticks, speakers, circuit boards and more".
---
Mars First Logistics
Shape Shop, 2023
This open world physics sim is set on a Mars colony in the future.
The colony needs to have various items transported across the planet's rocky, unforgiving surface, so it's up to the player to design and build vehicles that can transport them.
By performing successful cargo-delivering missions, players can unlock and buy new parts which allow for even more elaborate creations.
---
Saltsea Chronicles
Die Gute Fabrik, 2023
Developed by the studio behind Mutazione and Sportsfriends, Saltsea Chronicles is a new story-driven adventure game.
According to the developer's description: "Captain Maja's misfit crew must heist their impounded ship and mount a rescue. Guide the crew across islands of a post-flood world known as Saltsea.
"Explore strange and wonderful communities, uncover a deep conspiracy, choose where to go and which crew members to investigate with, and chart a journey through twists and turns, difficulties and delights."
Related Products
God of War Ragnarök (PS5)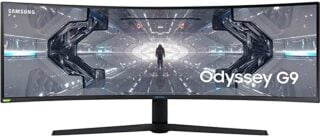 SAMSUNG 49-inch Odyssey G9 Gaming Monitor
Other Products
Some external links on this page are affiliate links, if you click on our affiliate links and make a purchase we might receive a commission.