Here's a new look at PS5's 'best looking open-world game' Forspoken
Square Enix confirms a Spring 2022 launch window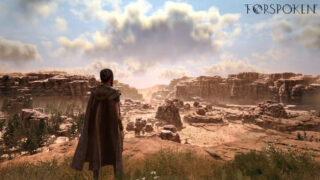 Square Enix premiered a new trailer for its original action-RPG Forspoken on Thursday and confirmed a Spring 2022 release date.
The Final Fantasy publisher has previously said it's aiming to deliver "the highest quality visuals ever seen in an open world game" with the PS5 exclusive.
Announced in June 2020, Forspoken is the debut game from the Japanese company's new Luminous Productions studio.
Forspoken is scheduled for release on PC and PS5 in 2022, and it will reportedly be a PlayStation console exclusive for two years.
Billed as "a narrative-driven adventure set in a beautiful yet cruel world," the game sees players take on the role of Frey Holland, "an ordinary young woman who must harness her magical abilities to survive in the fantastical yet dangerous land of Athia".
The lead character is portrayed by English actress Ella Balinska, who is known for starring in 2019 film Charlie's Angels.