Hazelight debuts gameplay for 'genre-bending' co-op game It Takes Two
A Way Out developer's latest will release in March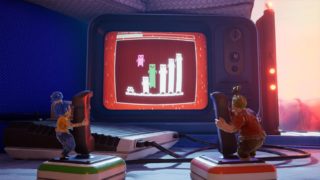 Hazelight's latest co-op adventure game, It Takes Two, will release for consoles and PC on March 26, 2021.
The A Way Out studio confirmed the news during The Game Awards on Thursday, where it debuted a brand new trailer and revealed that the game would include a Friend's Pass, allowing players to invite another player for free, without them purchasing the game.
"With It Takes Two, you never know what you're up against next," reads the official blurb. "Filled with genre-bending challenges and new character abilities to master in every level, you'll experience a metaphorical merging of gameplay and narrative that pushes the boundaries of interactive storytelling.
"Discover a light-hearted and touching story of the challenges in getting along. Help Cody and May learn how to overcome their differences. Meet a diverse cast of strange and endearing characters. Join forces, and go on an adventure you'll treasure – together!"
The story revolves around parents Cody and May, who are planning to separate, and their small daughter Rose.
"Rose doesn't want them to divorce so she creates two dolls out of clay and these dolls magically come alive," said director Josef Fares earlier this year. "You actually control both Cody and May, and you could say you're almost controlling their emotions.
"There are even levels where we're actually making mechanics for their emotions, so again marrying the story and the mechanics. And I think for the players that's going to feel very different, new and unique, they haven't played anything like this before."