Hazelight abandoned It Takes Two trademark application after Take-Two claim
Developer still hopeful of resolving its dispute with Rockstar's parent company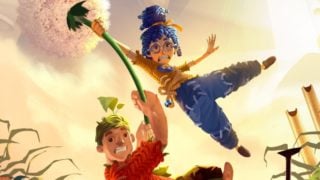 Hazelight was forced to abandon its trademark application for It Takes Two following a claim by publisher Take-Two, it has been revealed.
The critically acclaimed game, which tells the story of a husband and wife who are seemingly headed for divorce, is the latest co-op adventure from Brothers: A Tale of Two Sons and A Way Out director Josef Fares.
It emerged this week that It Takes Two was hit with a trademark claim from Grand Theft Auto parent company Take-Two prior to its release for consoles and PC in March 2021.
It Takes Two – Official Gameplay Trailer
Following the claim, Hazelight abandoned its trademark application for It Takes Two, a filing with the US Patent Office shows.
A Hazelight spokesperson told Eurogamer that while the company "cannot comment on ongoing disputes", it's "hopeful it will be resolved".
Take-Two is currently contesting a host of other names linked to words like 'rockstar', 'mafia' and 'civilization'.
Video games industry lawyer Richard Hoeg said the publisher was being "very, very aggressive" in terms of the volume of trademark extensions and challenges it's making, having filed at least 25 in the last three months.
Hazelight claimed in October that It Takes Two had sold over three million units.
"The thought of so many people enjoying our game is humbling and heartwarming," it said. "You've all helped send a clear message – co-op adventures are here to stay!"