Halo: The Master Chief Collection is adding cross-play support this year
Halo 3: ODST beta testing also beginning in the first half of August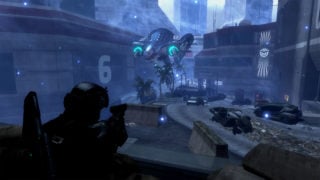 343 Industries is planning to launch cross-play support for Halo: The Master Chief Collection later this year.
The new feature, which will allow Xbox and PC players to play together, will launch alongside Input Based Match Making and Server Region Selection, 343 said in its latest development update.
Also scheduled to launch together later this year are Custom Game Browser, Per Game Graphics Options and Mouse and Keyboard support for Xbox players.
"In addition to the above, we are committed to bringing ODST Campaign & Halo 4 on PC, as well ODST Firefight (with updated networking) to both Xbox and PC in 2020," the studio said.
It also provided an update on the next instalment coming to The Master Chief Collection on PC, Halo 3: ODST.
"A slice of Halo 3: ODST" will be made available to beta testers signed up to the Halo Insider program in the first half of August (you can register here).
"We are also planning to include Halo 3 content in a patch during this flight to test some changes we have made to hit registration and Halo 3: ODST weapons in Halo 3," 343 said.
Last week the studio published an official response to criticism of Halo Infinite's graphics, telling fans it's taking the feedback "very seriously".
And following claims that Microsoft is set to discontinue Xbox Live Gold, which is currently required to play multiplayer Xbox games online, 343 confirmed that Halo Infinite's multiplayer will be free-to-play and support 120FPS on Xbox Series X.