Halo Infinite's latest update should finally fix Big Team Battle matchmaking issues
A previous attempt to address the problems didn't work as planned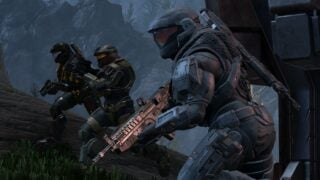 343 Industries has released a new Halo Infinite update designed to fix long-running issues with Big Team Battle matchmaking.
The studio said the latest update should enable players to find full matches more quickly and consistently.
Scorpion Tanks and Wraiths will also now appear more frequently on BTB maps, while matchmaking into games which are nearly complete should occur less often.
Halo Infinite - Multiplayer Season One Launch Trailer
The update weighs in at approximately 1.1 GB or less on all platforms and we've republished the full patch notes below.
343 has been working on the matchmaking issues for some time, including releasing an attempted fix in mid-January, which didn't have the intended outcome.
The studio said earlier this week that it needs more time before it can publicly announce its future plans for Halo Infinite.
It had previously intended to publish details about upcoming Halo Infinite content, including its seasonal roadmap, and launch plans for the delayed campaign co-op and Forge mode, in January.
Joseph Staten, head of creative for Halo Infinite, said providing this information to fans is his "top priority", but that the studio needs longer before it can offer assurances of when the content will be ready.
Microsoft CEO Satya Nadella claimed last month that Halo Infinite has enjoyed the best launch in the franchise's history, attracting over 20 million players since its Xbox, PC and Game Pass release.
Prolific support studio Certain Affinity could be working on a new game mode for Halo Infinite, as well as a Monster Hunter-style co-op game for Xbox, it's been claimed.
Halo Infinite patch notes
Matchmaking service improvements for Big Team Battle (BTB). Players should find full matches quicker and more consistently.
Scorpion Tanks and Wraiths will appear more frequently on BTB maps.
Fireteam members in BTB matches will have the selected Fireteam Marker color, but may still start the match in different areas of the map.
Join in progress rules updated to avoid matchmaking into games which are nearly complete.
Changes to Oddball in both Ranked and Arena Multiplayer playlists:

If the score is tied when a round's timer runs out, one minute is added back to the timer. If the score is tied at the end of the additional minute, then the round will be declared a tie.
The match will end if two separate rounds end in a tie and the victory will go to the team with more rounds won.

Halo Championship Series (HCS) variant of Free-For-All Slayer added to the Custom Game modes list.
In Custom Games, changes to Free-For-All Slayer, FFA Oddball, Neutral Flag and Tactical Slayer game options update correctly.