Halo Infinite Season 2, Lone Wolves, has been dated with a new trailer
Delayed season of content will launch in early May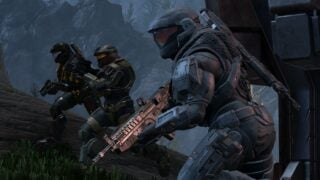 Microsoft and 343 Industries have confirmed that Halo Infinite Season 2 will launch on May 3, 2022.
"Experience fresh content including new maps, modes, themed limited-time events, and an all-new Battle Pass that never expires," Xbox said on Friday.
It also released the following trailer for Season 2, which is titled Lone Wolves and was originally expected to launch in early 2022 before Season 1 was extended.
Halo Infinite Season 2 Announce - Lone Wolves
A member of the Halo Infinite development team recently acknowledged that the game's community was "out of patience" at 343 Industries' perceived lack of activity and communication.
Community director Brian Jarrard posted a reply to a Reddit user who said they wished the studio would acknowledge that there are issues impacting progress on new features for the game, such as the delayed Forge mode and campaign co-op.
"There are indeed a lot of challenges and constraints," Jarrard said. "We're certainly not happy to be unable to meet player and community expectations, it's a difficult situation that's going to take the team time to work through.
"Right now the focus is on Season 2 and we'll have more to share on that in the coming weeks. Meanwhile a lot of production planning, costing, planning, hiring, etc. is all happening which doesn't really lend to detailed regular updates.
"We understand the community is simply out of patience and frankly, I think understandably tired of words. We just need some time for the team to get the details sorted and then we can certainly share as much as we can."