Halo Infinite 'has the most cutting edge engine on the planet,' claims architect
343's Slipspace Engine was created specifically for the project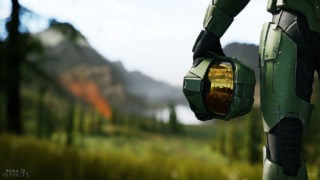 Halo Infinite will feature "the most cutting edge AAA game engine on the planet."
That's according to 343 architect Daniele Giannetti, who has made bold claims about the capabilities of the developer's new Slipspace Engine.
[UPDATE: Xbox has claimed that the above statement reflects Giannetti's personal goal and is not related to his role at 343.]
Original Story continues:
Microsoft announced in June that it plans to launch Halo Infinite alongside its next-gen console, Xbox Scarlett, during the 2020 holiday season.
Described as a "spiritual reboot" of the first-person shooter series, which launched in 2001, the game's also in development for Xbox One and PC.
Announced at E3 2018 alongside Halo Infinite, Slipspace was built to give more creative freedom to the game's development team and open new possibilities within the game itself, according to 343 head Bonnie Ross.
Looking forward to what Slipspace means for the future of the Halo franchise, Ross told IGN: "One; we want to do more with Halo… and two; we want to have a team that can do their best creative work within our engine.
"So it really was taking the time off and, as we announced the Slipspace Engine last year, it is all to make sure we're building the platform for the future of Halo."
According to Ross, the 343 development team had been promised more time to focus on Halo's game engine in order to make it easier for "creatives" to work in.
"The Halo engine is a very technical, engineering-focused engine. It's super hard for creatives to work in," Ross said, "It's super hard for a lot of creatives to work in, at one time. We did a ton of work, on Halo 4, on the engine, to get it to look… I think it looked amazing for being on the last generation on the last year of the platform.
"We promised the team we would do the work on the tools, and pipeline, for Halo 5, so it wasn't such a challenging environment to develop on," Ross said. "You know… 'best-laid plans'… we didn't do that, and the team, rightfully so, basically called us on it."
On its Slipspace website, 343 claims the engine will enable its in-game characters to "convey moving emotional performances with truly organic, believable fidelity."