Halo Infinite 'Forever We Fight' live action trailer released
The delayed game finally hits stores on December 8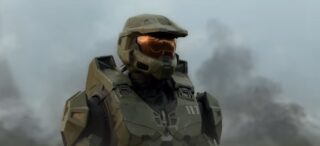 Microsoft has released a live action trailer for Halo Infinite ahead of the game's release next week.
Having originally been scheduled for release in November 2020 as an Xbox Series X/S launch title, Halo Infinite will now be released for consoles and PC on December 8, 2021.
"Throughout human history, heroes have risen when called upon," reads the blurb accompanying the game's live action trailer (below), which is titled 'Forever We Fight'.
"The Master Chief carries each act of bravery with him into his most challenging battle yet. We've always believed in heroes, it's time to become one."
Halo Infinite | Forever We Fight - Official Full Length
Recently, VGC was able to play the opening hours of Halo Infinite's campaign and early impressions suggest that the combination of traditional Halo sandbox gameplay with a large, open world could turn out to be a perfect marriage for the series.
The cinematic elements seen in recent games were still very much there, but the freedom, scale and experimentation within the moment-to-moment gameplay felt like a welcome call back to the Bungie classics of old.
Halo Infinite's campaign has been designed with Normal difficulty in mind for the first time in the series, its designers told VGC in an interview published earlier this month.
Halo Infinite's free-to-play multiplayer component launched early on November 15 to celebrate the 20th anniversary of Xbox.
Following the surprise launch, developer 343 Industries has said fixing issues with Halo Infinite Battle Pass progression is the studio's top priority.