Halo Infinite campaign mission select feature will be added later, 343 says
The option to replay levels was delayed to focus on improving the game for launch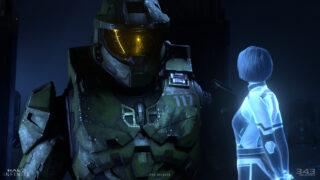 343 Industries has said it's working on a Halo Infinite level select feature that will enable players to replay campaign missions.
Earlier this week, just prior to the game's release, Microsoft confirmed that Halo Infinite's campaign missions can't be replayed once they've been completed unless users start a new save file.
Aside from the inability to simply replay levels for fun, as was possible in previous Halo games via a mission select menu, the news wasn't good for completionists.
Halo Infinite's first two missions are set off Zeta Halo and once they're finished there's no way to return to them, meaning collectibles missed on a first playthrough can't be obtained later without starting a new game.
After these first levels the game transitions to a more open-world structure, which enables players to revisit areas and hoover up collectibles they might have missed when playing earlier missions, even if story missions won't trigger in the game's current state.
In an interview with Stevivor, 343 Industries associate creative director Paul Crocker said the ability to replay missions "is part of what is coming later".
Like the game's heavily delayed campaign co-op and Forge mode, Crocker said level select was pushed back so that 343 could focus on hitting the game's December 8 release.
"The main reason is because, being a more open game and a nonlinear game, it became incredibly challenging," he explained. "It's not that it doesn't work, it's just that it's not finished.
"We made the decision to make a better game, to improve the quality of the game so we could then add the features — just like co-op. And that is disappointing for us as the people who made it, but it was, also, the better option for us to make a better game and add that later."
Crocker said he didn't know when the mission select feature will be added to the game but confirmed that it's currently being worked on.
"Things like collectibles that you have collected are stored in your profile," he added. "Your profile is the important thing. Your profile stores your progress. The save is just where that that version of campaign is."
343 Industries has advised Halo Infinite players not to use the Quick Resume feature for the time being while playing the game on Xbox Series X/S consoles as it can result in losing access to multiplayer cosmetics picked up during the campaign.
"Halo Infinite's move to a more open-world structure feels like a new beginning for the series, with nostalgic nods and fresh introductions combining to great effect," VGC's review of the game reads. "Both the campaign and multiplayer have room for improvement, but the core experience is strong."
Related Products
Other Products
Some external links on this page are affiliate links, if you click on our affiliate links and make a purchase we might receive a commission.