Half of Mario Kart Tour's characters are now locked behind its gacha mechanic
New characters excluded from free currency shop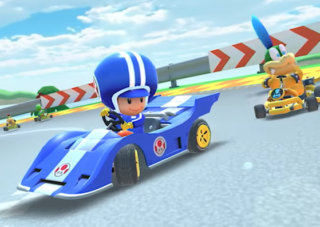 Almost half of the characters in Mario Kart Tour are now locked behind its gacha mechanic, which is heavily reliant on microtransactions.
And the game's newest characters, such as Red Koopa (Freerunning), are given such low odds of appearing (less than 0.5 percent) that the only certain way to obtain them is via $19.99 / £19.99 microtransaction packs.
The mobile racer – 2019's most downloaded game on Apple devices – has two core means of unlocking new content: a daily shop, which uses coins collected for free during races, and The Pipe, a gacha-like mechanic requiring Rubies, a far harder to acquire currency which can also be purchased with real money.
Each use of The Pipe unlocks content at random and contains 100 fixed items, which can also include duplicates.
For free users, around 25 Rubies can be obtained by completing cups in each two-week tour, which is enough for five Pipe launches.
In order to use The Pipe often players must realistically subscribe to Mario Kart Tour's paid Gold service or purchase Rubies for around $3 / £3 per launch.
Players who subscribe to the game's $4.99 / £4.99 a month Gold Pass are given access to a further 35 Rubies during each tour, or enough for another seven Pipe launches.

Further Rubies are locked behind in-game challenges, though these don't reset each tour and become increasingly more time consuming to acquire. For example, one late challenge requires making opponents crash 2,000 times.
With some characters and items carrying odds of a tenth of a percent to crop up in a random Pipe launch, many players rely on the daily shop refresh to unlock new content.
However, for the past month the pool of content that can appear in the shop has been limited, with new characters and karts locked to The Pipe or select $19.99 / £19.99 microtransaction packs.
Mario Kart Tour's events now list the items that can appear in the shop and at the time of publication only 26 of the game's 49 characters can be purchased outside of its gacha-mechanic or microtransaction packs.
That means characters such as Luigi, Wario and Black Shy Guy are incredibly difficult to obtain without spending money on Rubies.
Similarly, only 17 of Mario Kart Tour's 58 karts and 12 of its 33 gliders can appear in the shop.
Around 10 characters, karts and gliders are locked to limited time events.
The Gold Pass is the only way to access the upcoming Mario Kart Tour multiplayer beta test, which is due to take place in December.
Nintendo president Shuntaro Furukawa recently told investors that Mario Kart Tour earnings were off to a good start.
"In addition to randomised items, we have created opportunities to generate revenue such as the Gold Pass subscription to meet various needs to consumers, allowing them to enjoy the game," he said.
"By including these mechanics and multiplayer functionality, we want to make it an attractive application that will be enjoyed by consumers in the long-term."
Related Products
Other Products
Some external links on this page are affiliate links, if you click on our affiliate links and make a purchase we might receive a commission.