Half-Life's G-Man appears in New Year video
Voice Actor seemingly sets up upcoming VR instalment Alyx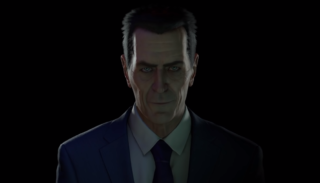 The voice actor behind Half-Life's G-Man has posted a New Year's video message in the guise of his character.
The video from Mike Shapiro seemingly sets up Valve's upcoming VR exclusive, Half-Life: Alyx, which will be the celebrated shooter series' first instalment in more than 12 years.
Powered by SteamVR on Valve's Source 2 engine, Alyx is set for release in March 2020 and will be compatible with multiple PC-based VR headsets, Valve announced in November.
The game, which Valve insists is not a spin-off but "the next part" of the story, can be pre-purchased for $59.99 and is free for owners of the Valve Index VR headset or Index controllers.
Set between the events of Half-Life and Half-Life 2, the game sees protagonist Alyx Vance and her father Eli secretly mount a resistance to the occupation of Earth by a mysterious alien race known as The Combine.
Valve says Half-Life: Alyx was "designed from the ground up" for Virtual Reality and "features all of the hallmarks of a classic Half-Life game," including "world exploration, puzzle solving, visceral combat, and an intricately woven story that connects it all with the characters iconic to the Half-Life universe."
The Half-Life series has been on hiatus since 2007's Episode Two, which was originally planned as the middle part of a trilogy which was ultimately never completed.