Half-Life remake Black Mesa will finally leave Early Access in March
Project was first released as a fan mod in 2012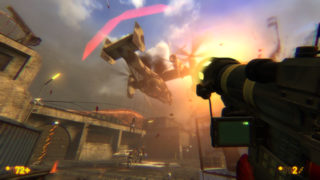 Black Mesa, the fan-made remake of Half-Life, will be released on Thursday, March 5.
Developed by Crowbar Collective, the project was first released as a free mod in September 2012, before Half-Life maker Valve approved it for a commercial release.
Black Mesa was then published on Steam Early Access in November 2015.
Priced at £14.99/$19.99, it features a 10-15 hour single player campaign, plus multiplayer deathmatch and team deathmatch with eight reimagined Half-Life 1 maps on the Source Engine.
"Through luck, hard work, and maybe a bit of ignorance we didn't shy away from our goal of bringing this game to completion," Crowbar's Adam Engels wrote in a Steam post announcing Black Mesa's release date.
"We are proud of what we built. We think this upcoming 1.0 release is the best, most polished, and most fun version of the game yet. The anticipation and excitement around our project is beyond flattering.
"Black Mesa is a video game, it is our video game, and it has its strengths, and its flaws," Engels added. "As Leonardo da Vinci said, 'Art is never finished, only abandoned' and while we plan to fully support this game after 1.0 with bug fixes and more, it will never be a perfect game.
"This is not to downplay, or make excuses, but as the person who drafts most of these media posts, I think it is important to break away from the marketing and the 'hype'."
Valve itself is gearing up for the late March release of Half-Life: Alyx, a "full-length" VR entry in its FPS series that represents the "the next part" of the story rather than a spin-off.
The company is offering the first two Half-Life games and their expansions free of charge in the run-up to Alyx's release.