Half-Life could have been called Crysis or Fallout instead, developer reveals
A list of potential titles for the game includes some familiar names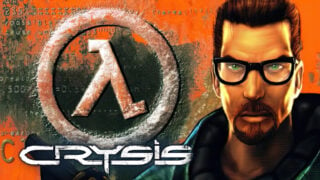 Valve's seminal first-person shooter Half-Life could have been named Crysis or Fallout, according to one of its developers.
Level designer Dario Casali has started a YouTube series called Half-Life 25 Year Developer Commentary, in which he plays through the original game sharing stories on how it was made.
The gameplay is accompanied by items from Casali's collection, including old diary entries, screenshots, photos and documents from the time of the game's development.
Early into the first episode, Casali shares a document listing potential names for the game. According to Casali, when he joined Valve the game was already codenamed Quiver, but the studio was trying to think of another title for the game.
At the time of the document's publication, the most popular potential titles for the game were Bent, Dirt, Lead, Pressure, Pressure Chamber, Pressure Pit or Screwed.
A secondary list of titles that were "still in the running" was also provided, and Half-Life was part of this list.
However, also in the list are Fallout, Free Radical and variations on Crysis (including Cry.Sys, Crisis, CrYsis and Krisis).
There don't appear to be any obvious connections between Valve's development staff and the eventual release of the games Fallout or Crysis, or the development studio Free Radical Design.
Although Fallout was released in 1997 (a full year before Half-Life), that wasn't always the game's planned title. For a while it was set to be named Vault-13: A GURPS Post-Nuclear Role-Playing Game, which was then briefly changed to Armageddon before the Fallout name was agreed on.
However, since development on Half-Life started in mid-1996, it's likely that Valve's developers didn't know about Fallout's existence at the time, or its final name, which is why Fallout was being considered as a title early on.
Free Radical Design was founded in 1999 and was mostly made up of former Rare staff. Coincidentally – given Valve's list – it was then acquired in 2009 by Crytek, the maker of Crysis.
Related Products
Some external links on this page are affiliate links, if you click on our affiliate links and make a purchase we might receive a commission.