GTA V's first PS5 trailer has divided opinion among fans
Some are unhappy with the delay and the quality of the visuals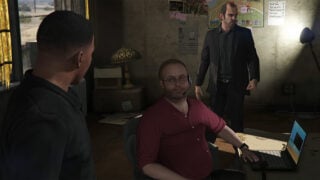 The first trailer for Grand Theft Auto V's new-gen console version has received a mixed response from fans.
At the time of writing, the official trailer has earned over 1.1 million views across the official PlayStation YouTube channel and Rockstar Games YouTube channel combined.
Of these viewers, 82,000 have clicked either like or dislike, with the latter currently dominating (35,000 positive versus 47,000 negative).
The trailer on the official PlayStation channel is more overwhelmingly negative (13,000 likes vs 23,000 dislikes), while the Rockstar channel's video is more evenly split (22,000 likes vs 24,000 dislikes).
The criticism appears to be based on three major factors – the decision to delay the game to March 2022, the perceived lack of notable differences to the visuals, and the fact that it's the game's second remaster (from PS3 to PS4 to PS5).
"At this point fan-made mods have 'expanded and enhanced' the game more than the actual developer," one YouTube commenter said. "To quote [Lord of the Rings] King Theoden: How did it come to this?"
"For as long as everyone's playing GTA V then GTA V is all we're gonna get," added another. "In the meantime go out, live life, find someone, marry them, raise a family and have your kids play the updated 2040 edition of GTA V with you."
Rockstar Games had previously confirmed that the the "expanded and enhanced" versions of GTA V and GTA Online were releasing for PlayStation 5 and Xbox Series X|S on November 11, 2021.
However, a new trailer shown during the PlayStation Showcase event tonight confirmed that the game is now coming out in March 2022.
Rockstar announced its intention to release PS5 and Xbox Series X|S versions of GTA V last summer, when it said the new versions would feature "a range of technical improvements, visual upgrades and performance enhancements to take full advantage of the latest hardware, making the game more beautiful and more responsive than ever".
Commenting on the next-gen versions of GTA V in March, the CEO of Rockstar parent company Take-Two said he was confident the remaster would deliver a strong experience for players.
"We've done great with the Mafia series, for example, and Grand Theft Auto [V] is now heading into its third generation which is incredible", said Strauss Zelnick.
"It was a standard-bearer when it was launched, it continued to be the standard-bearer in the second generation, we'll see how Grand Theft Auto does in the next generation. Obviously, I'm confident that Rockstar is going to deliver just a great experience, but you can't do that if you're just doing a simple port."