GTA Trilogy has already dropped out of the UK Top 40, weeks after release
The boxed version has exited the UK chart, following poor reviews of its digital release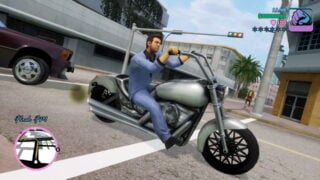 Rockstar's much-criticised Grand Theft Auto: The Trilogy – Definitive Edition has dropped out of the UK top 40 boxed chart, just two weeks after its physical release.
The PlayStation and Xbox versions of the collection were released physically just before Christmas, following the remasters' digital release in November (the boxed Nintendo Switch edition is due later).
However, the latest GfK data reveals that The Trilogy – which had a troubled launch with very poor reviews – has already dropped out of the top 40 entirely. The week after its release, sales had dropped 70% to No. 23, but now its exited the whole chart.
Even considering its poor reception, GTA's boxed performance is surprising both considering the incredible popularity of the series – GTA V still regularly appears in sales charts, nearly a decade after its release – and the success of other remasters such as those based on Crash Bandicoot and Tony Hawk's.
Grand Theft Auto: The Trilogy - The Definitive Edition trailer
The Definitive Edition was one of the worst-reviewed games of 2021, according to aggregation site Metacritic.
The highly anticipated remaster collection released in November with a significant number of technical issues, as well as "unintended" documents within its game files such as unlicensed music and developer notes.
Rockstar subsequently apologised to fans for the state of the game and promised a series of updates to improve the title.
"The Grand Theft Auto series — and the games that make up this iconic trilogy — are as special to us as we know they are to fans around the world," it said. "The updated versions of these classic games did not launch in a state that meets our own standards of quality, or the standards our fans have come to expect."
Rockstar added: "We have ongoing plans to address the technical issues and to improve each game going forward. With each planned update, the games will reach the level of quality that they deserve to be."
Following the poor reception, Rockstar delayed the original release window for the collection's boxed versions by a few weeks, likely to include patched versions of content.