Grasshopper Manufacture's first Direct briefly teased its next game
The presentation ended with an obscured view of the game running on a TV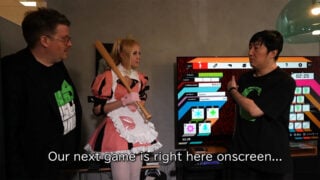 Grasshopper Manufacture has teased its next project by briefly showing it during a video presentation.
The studio's first Grasshopper Direct was an 11-minute video containing comedic skits, strange fake movie trailers and a montage showing the studio's past titles.
However, it ended with the show's hosts hearing a noise in the room behind them, going to investigate and finding Grasshopper founder and CEO Suda51 sitting on a couch playing an unknown game.
Suda quickly pauses the game, stands in front of the screen to obscure it and says a few words about Grasshopper's 25th anniversary.
"Is this okay?" he asks. "Our next game is right here on-screen."
The brief glimpse doesn't give much away. When we first see the game it appears to show a forest in the middle of the night.
When Suda realises what's going on, he pauses the game, showing an inventory screen with the (blurred out) protagonist standing in the middle.
The inventory screen shows a number of empty item slots, as well as meters for Health, Blood and something called Emerald Flowsion. It also lists two weapons, named the Spazer and the Brynhildr.
These names are not likely to provide clues to the game's content – Emerald Flowsion is a wrestling move, the Spazer is a type of laser beam seen in Metroid, and Brynhildr is a Norse reference, but Grasshopper games often make references to things Suda simply thinks are cool.
Elsewhere in the Direct, more footage was shown of the recently announced Shadows of the Damned Remaster, which the video says is "coming to all current platforms, probably".