Gran Turismo and Just Dance will be events in the 2023 Olympic Esports Series
Qualification for all 9 games begins today, with live finals in June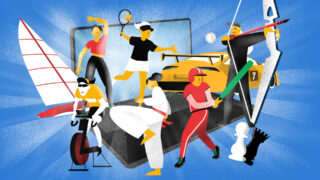 The International Olympics Committee (IOC) has  announced that qualification for the Olympic Esports Series 2023 begins today.
The series is a "global and virtual simulated sports competition" created by the IOC and run in collaboration with official sporting federations.
Nine sports will be represented in this year's event, with games such as Gran Turismo and Just Dance featuring.
Professional and amateur players form around the world are invited to take part in qualifying for each event starting from today, with the finals to take place at live, in-person events in Singapore's Suntec Centre on June 22-25. These will be streamed live on Olympics.com and Olympics social channels.
The nine events and games confirmed for this year's Series (along with the collaborating official sports federations, and when qualification starts for each event) are as follows:
Archery – Tic Tac Bow (World Archery Federation) – begins spring 2023
Baseball – WBSC eBaseball: Power Pros (World Baseball Softball Confederation) – begins March 27
Chess – Chess.com (International Chess Federation) – begins April 1
Cycling – Zwift (UCI) – begins TBC
Dance – Just Dance 2023 (World DanceSport Federation) – begins TBC
Motor sport – Gran Turismo 7 (Fédération Internationale de l'Automobile) – begins April 13
Sailing – Virtual Regatta (World Sailing) – begins March 17
Taekwondo – Virtual Taekwondo (World Taekwondo) – begins TBC
Tennis – Tennis Clash (International Tennis Federation) – begins TBC
The qualification process for each game will differ, with information being made available on the official Olympic Esports Series website as details are finalised.
What has been confirmed, however, is that Gran Turismo 7 qualification will take place on a bespoke Olympic Esports Series track, which will be available in the game from April 13 and will involve players trying to set their best time in an online time trial.
According to the IOC, the Olympic Esports Series 2023 is the the next step in "supporting the development of virtual sports within the Olympic Movement".
The first Olympic Virtual Series took place in 2021 ahead of the Tokyo Olympic Games and featured five disciplines, including baseball (played on eBaseball Powerful Pro Baseball 2020) and motor sport (played on Gran Turismo Sport).