Google has countersued Epic Games for Fortnite breach of contract
It claims sidestepping Google Play fees led to unjust enrichment and security issues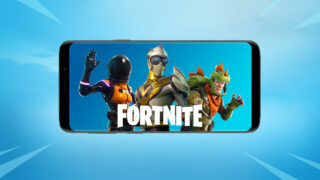 Google has countersued Epic Games in the latest twist in the antitrust battle originally brought against the company by the Fortnite maker.
The legal battle began in August 2020 after Epic moved to circumvent platform fees with a new direct payment option in Fortnite, leading to the game's removal from Google Play and the App Store.
Epic then took legal action "to end Apple and Google's anti-competitive restrictions on mobile device marketplaces", although it recently came out on the losing side in its battle with the iPhone maker.
Fortnite Chapter 2 Season 8 Story Trailer
Ahead of the Google and Epic case going to trial, the platform holder has countersued the game maker for what it claims was an intentional breach of contract.
In breaching its Google Play developer distribution agreement (DDA), Google says Epic unjustly enriched itself at the platform holder's expense and exposed a potentially dangerous security flaw.
"Epic breached these provisions of the DDA on August 13, 2020 by activating its own external payment system through a hotfix in Fortnite designed to bypass Google Play Billing," its suit reads.
"As a direct result of Epic's breach of contract, Google has suffered injury, including the loss of the DDA's 'service fee' on a global basis, and the Google Play ecosystem has suffered injury because the hotfix potentially exposed a security vulnerability that could be exploited for even more nefarious purposes."
Apple recently said it won't consider letting Fortnite back on the App Store until its legal battle with Epic is complete, which might not be for several years.
Epic is appealing the decision in its antitrust lawsuit against Apple, which last month saw the judge in the case rule against the Fortnite maker in nine of the 10 counts it had brought against the iPhone firm.
Earlier this week, it was claimed that Epic is considering making a Fortnite film as part of wider conversations about the possibility of launching an entertainment division focused on scripted video programming.
Sources told The Information (paywall) that Epic is exploring new ways to grow its brands at a time when its ambitions in the mobile games space are being restricted by its legal battles with Apple and Google.