GoldenEye's Xbox remaster axes Dr. Doak – but fans are modding him back in
Fan-favourite NPC is replaced by a new character in this week's leaked Xbox build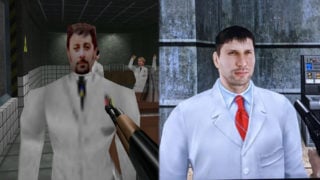 GoldenEye 007 fans have pledged to restore a much-loved NPC into this week's leaked Xbox remaster, after it emerged that he'd been cut from the game.
A working build of GoldenEye 007's cancelled Xbox 360 remaster was leaked onto file-sharing sites earlier this week, allowing those with access to the files to play it via a modded console or PC emulator.
The remaster project was originally planned to release digitally on Xbox 360's Xbox Live Arcade platform in 2008, but it was ultimately cancelled due to rights issues, despite the game being virtually complete.
Update - Officially announced
Microsoft has officially confirmed GoldenEye 007 for both Nintendo Switch and Xbox Game Pass.
However, the game is not the previously leaked remake that VGC reviewed here, but a simplified remaster. The Xbox version runs at 60fps and in 4K, but lacks online multiplayer. Whereas the Switch version is a direct port of the N64 original, but does include online play.
"25 years after its original release, experience GoldenEye 007 faithfully recreated for Xbox consoles," developer Rare said. "Includes achievements, 4K resolution and a smoother framerate – even in split-screen local multiplayer!"
However, following the leak of a working game ROM fans are now playing the canned project and discovering its secrets for the first time. One such discovery is that Dr. Doak, the fan-favourite NPC who originally appeared in the N64 game's Facility level, has been replaced by "Dr. Rakhmanov".
Fans with access to the leaked game build took to social media on Wednesday to express their displeasure over the changel:
Like most characters included in the original 1997 version of GoldenEye for N64, Dr. Doak was based on one of the game's real-life developers, David Doak.
Since few of the original creators were around by the remasters's 2007/2008 development window (Doak left developer Rare in 1998 to form TimeSplitters studio Free Radical), the faces in the remaster appear to have been replaced by new Rare employees.
That includes Dr. Doak, who's new alter ego is based on Sergey Rakhmanov, a 3D artist who worked on Perfect Dark Zero, Diddy Kong Racing DS and Kinect Sports, in addition to the canned GoldenEye project.
Given the popularity of the Dr. Doak character, it's unsurprising that fans have already started work modding him back into the leaked Xbox build.
One person, known as 'KholdFuzion', said on Thursday he was attempting to replace the character model used in the remaster with the classic Doak. "I have textures figured out. [Just] need to replace Doak," he wrote.
In the meantime, KholdFuzion has added an extra line of dialogue into his version of the game:
The real David Doak declined VGC's request to comment on this story. However, he did send fans encouragement in the form of a heart emoji when told they were trying to put him back into GoldenEye.
The GoldenEye ROM leak follows the publication of a 2-hour video last weekend, and represents the first time the wider public has been able to play the remaster since its existence was leaked by a UK magazine in 2008.
The remaster gives players the option to switch between HD converted graphics and the original N64 visuals, however, the planned online multiplayer mode does not feature in the leaked ROM, according to people with access to it.
GoldenEye's remaster was also planned to incorporate online leaderboards for speedruns, as well as Achievements, but these are said to not be fully functioning in the leaked ROM.
Although Microsoft, rights holders Activision and original publisher Nintendo were said to have initially agreed on a licensing deal for the planned 2008 release of the remaster, the project ultimately collapsed due to the sheer number of parties involved in approving the re-release.
Related Products
Other Products
Some external links on this page are affiliate links, if you click on our affiliate links and make a purchase we might receive a commission.