Goldeneye 007 has been unbanned in Germany, potentially pointing to a re-release
The iconic shooter has been removed from the list of "Media Harmful to Young Persons".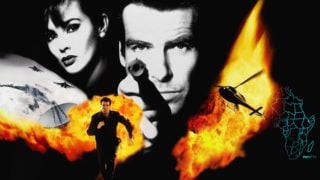 Goldeneye 007 could be set for a re-release following its removal from the list of games banned in Germany.
This was set to happen automatically after 25 years, but according to Schnittberichte, the removal was at the request of someone, or an entity, rather than as a formality.
The game has been removed from the list of "Media Harmful to Young Persons", along with Blood Rayne and Blood Rayne 2 – two games which have been confirmed to be receiving remasters.
It's worth noting that Nintendo's eShop is based in Germany in Europe, and thus for the game to appear on the platform, it would have to be removed from this list in order to be sold anywhere in Europe. This would also apply to it appearing on the Nintendo Switch Online service, the likely destination for the iconic shooter.
Recently, Techland's Switch port of Dying Light wasn't released on its planned October 19th release date due to the eShop's registration in Germany. A Techland spokesperson speaking on Reddit revealed that;
"If you're talking about the digital version, then due to nature of content the digital version of the game is currently banned in Germany where European e-Shop is officially registered.
"This is making it impossible to officially distribute the game in European countries and also in Australia and New Zealand. We are currently working with our partner and local authorities to remove the ban as soon as we can."
If Goldeneye 007 does receive a re-release on modern platforms, it would be a huge step in preserving a game that has been battling against licensing issues for years.
This is largely due to rights to the James Bond license, as well as the likeness rights to Pierce Brosnan, Sean Bean, Robbie Coltrane and more. This would either have to be renegotiated or removed from a potential rerelease.
Recently it was revealed that Microsoft had to shelve an already completed remaster of the game for the Xbox 360, following licensing issues and miscommunication between license holders and a young team who rushed ahead to create it, despite a deal for the game having never been signed.
Speaking to VGC in a GoldenEye Xbox interview, the canned remaster's co-directors said they didn't think it would ever be released.
Related Products
Other Products
Some external links on this page are affiliate links, if you click on our affiliate links and make a purchase we might receive a commission.