GOG's Autumn Sale has been updated with a new free game
King's Bounty: The Legend is the second of four titles being given away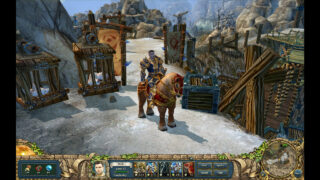 GOG's Autumn Sale has been updated with it latest free game.
King's Bounty: The Legend is now free to download until September 4 at 1pm UTC.
It's worth noting that to claim the game players must opt in to receive GOG marketing emails.
Developed by Katauri Interactive and published by Fulqrum Publishing, King's Bounty: The Legend is an adventure game with tactical turn-based battles and role-playing elements.
The title was released in 2008 and has a score of 79 on review aggregation site Metacritic.
"Become a hero in a fantasy world of fearless knights, evil mages, wise kings and beautiful princesses," reads the game's description on GOG. "Explore the land, command armies and accomplish quests for your king to reap great rewards… Or suffer devastating defeats.
"The gameplay is divided into two major sections: adventure mode and tactics mode. While playing in adventure mode you control your hero in real-time, seeking various treasures, fighting monsters and accomplishing quests tasked to you by the local stewards.
"Once in tactics mode you assume the role of a war chief, leading your troops in tactical turn-based combat."
King's Bounty: The Legend is the second of four games GOG will be giving away during its Autumn Sale, which is running until September 11. Hero of the Kingdom II was given away earlier this week.
By way of comparison, King's Bounty: The Legend currently costs £5.89 on Epic Games Store and usually carries the same price tag on Steam, but at the moment it's discounted by 80%, to £1.17, on Valve's marketplace.
The Epic Games Store's next free title was revealed on Thursday. Free Range Games' Spelldrifter will be free to claim from September 7-14. It will replace classic indie platformer Cave Story+, which is now free to claim until September 7.
Amazon also revealed September's 'free' games for Prime Gaming members on Thursday. Subscribers will be able to claim seven titles next month, including Football Manager 2023.