Ghost Recon Frontline is a free-to-play shooter offering 'a new take on battle royale'
A closed test for the game will take place in Europe this month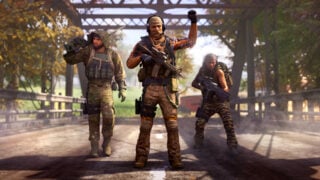 Ubisoft has announced Ghost Recon Frontline for consoles and PC.
The title, which has been in the works for three years at Ubisoft Bucharest, will be available for PC, Xbox One, Xbox Series X/S, PS4, PS5, Stadia and Luna, with cross-play enabled between all platforms.
"Tom Clancy's Ghost Recon Frontline is a free-to-play, tactical-action, massive PVP shooter grounded in the renowned Ghost Recon universe," reads a product description on the game's official website.
"Ghost Recon Frontline features an advanced class system and large set of tactical support tools allowing for complete freedom in strategic gameplay, with multiple ways to outsmart enemy teams and win every fight."
According to a press release accompanying today's announcement, Ghost Recon Frontline will offer "a new take on the battle royale genre".
"Featuring more than 100 players in teams of three, these squads will have to work together to complete dynamic objectives across the massive open map with no converging circle.
"Once players are done collecting intel, they will have to head to a drop zone and call for an extraction. When initiated, all teams will know the position of the extraction and will try to intervene, players will have to play tactically to successfully escape and win the match."
Ubisoft said Ghost Recon Frontline will also include additional modes at launch.
A closed test for the game will run from October 14-21 on PC in over 20 European countries. Players can register to participate here.
Frontline was revealed during a 20th anniversary showcase designed to celebrate two decades since the original Tom Clancy's Ghost Recon was released in November 2001.