Ghost of Tsushima will release in Summer 2020
Sucker Punch's action adventure game re-emerges with new trailer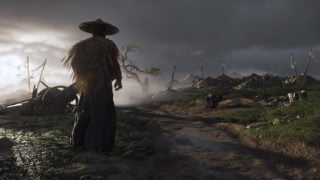 Sucker Punch's Ghost of Tsushima will release in Summer 2020 for PlayStation 4.
The news was announced at The Game Awards in Los Angeles, where Sony Interactive Entertainment premiered a new game trailer.
First shown in October 2017, little has been seen since of the open-world adventure game, which is in development at Sucker Punch Productions.
Sony Interactive Entertainment CEO Jim Ryan said in August the title remained on track for a PS4 release while simultaneously revealing PS5 will launch at the end of 2020.
Ghost of Tsushima is set during the Mongol invasion of Japan in 1274, a time of "warfare, chaos, and violent change."
Players take on the role of Jin Sakai, a powerful samurai warrior whose adventure draws on Japanese history and the traditions of samurai cinema to craft what Sucker Punch calls "a gorgeous tale of revenge, empowerment, and hope."