Ghost of Tsushima Legends dates its first raid and weekly challenges
Latest patch also includes various bug fixes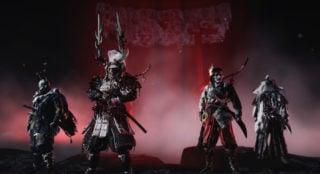 Sucker Punch Productions has provided fresh details about Ghost of Tsushima's first four-player raid, including a launch date of October 30.
Last week the game was expanded with a multiplayer mode, Ghost of Tsushima Legends, which allows players to partner with friends to explore fantastical locations inspired by Japanese folk tales and mythology.
Divided into three chapters and requiring a team of four players, the game's first raid is called The Tale of Iyo.
"This is the culmination of the story in Ghost of Tsushima: Legends, bringing the fight directly to Iyo's realm," Sucker Punch said on Thursday.
"The Tale of Iyo will not support matchmaking, so you'll need to arrange your team ahead of time and be ready to jump in together. You'll want to have your gear at KI level 100 as an absolute minimum before you attempt to take on this challenge.
"To get Raid ready, we recommend finishing all Story missions, and replaying Story and Survival on higher difficulties to get higher level gear."
Ghost of Tsushima: Legends' weekly challenges will begin at 8am PT/11am ET/4pm UK every Friday. They will feature a new two-player story mission and four-player Survival mission, with weekly modifiers and leaderboards.
Sucker Punch said: "These missions are Nightmare Difficulty and intended to put you and your team to the test! They'll be very difficult, but if you and your fellow Ghosts are able to complete them along with all bonus objectives, you'll get max-level gear that will help you become Raid ready."
A new Ghost of Tsushima patch which is expected to launch today will include the following fixes:
Resolved a bug causing frequent Network Error pop-ups
Resolved a bug preventing the Platinum Trophy armor dye from appearing in New Game+
Resolved a bug that caused some users to become stuck in the Legends tutorial
Added support for PlayStation™ Network "Players Met" functionality to Legends
Various bug and crash fixes
Sucker Punch looks likely to be working on more Ghost of Tsushima content, according to a recent job ad calling for a narrative designer who should have a "desire to write stories set in feudal Japan".