Genshin Impact voice actor dropped after allegations of abuse, underage grooming
Developer HoYoverse says it's dropped Elliot Gindi due to "a breach of contract"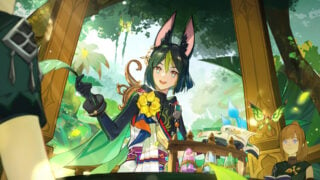 The developer of hugely successful free-to-play action RPG Genshin Impact has cut ties with one of its voice actors following allegations of abusive behaviour.
HoYoverse posted a statement on its official Twitter account stating that the character Tighnari would no longer be voiced by Elliot Gindi, following what it called "a breach of contract".
The statement reads: "After communications with the voice recording agency, we hereby confirm that Elliot Gindi, the English voice actor for Tighnari will no longer be voicing the character in subsequent versions due to a breach of contract.
"At present, we are communicating with the voice recording agency regarding matters of casting and re-recording. We will gradually replace Tighnari's existing in-game voice lines, and issue these updates in the corresponding announcements."
Gindi had previously announced on Twitter on February 7 that he was "taking a break" and "seeking therapy", just one day before serious allegations about him were posted online.
On February 8, Twitter user FretCore, who claimed to be one of Gindi's "main Twitch and Discord moderators", posted a document (which has now been reposted on its own website) which accuses Gindi of sexual and other inappropriate behaviour while interacting with some of his fans, some of whom were underage.
A few hours after the allegations were published, Gindi posted a lengthy apology in which he admitted that the screenshots in the document were real, including "all of the cringy sex talk", but also refuted claims that he "knowingly did anything with anyone underage".
As further accusations started appearing online, the game's English voice director Chris Faiella tweeted: "I appreciate everyone bringing the situation regarding Elliot to my attention. To say I'm angry, disappointed, and heartbroken about it all, would be an understatement.
"My heart goes out to anyone who has been victimized by this unacceptable and inappropriate behavior. I personally would like to champion the ones who stepped forward and brought all of this to light.
"Trust that I am doing everything that I can, using what limited power I do have, to rectify this situation and will absolutely inform the folks at miHoYo."