GeForce Now is being upgraded to RTX 4080, '5x the performance of Xbox Series X'
The upgrade will roll out on the cloud gaming service later this month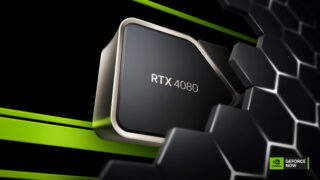 Nvidia is upgrading its GeForce Now game streaming service with RTX 4080-class performance, it's announced.
Starting later this month in North America and Europe, members of GeForce Now's new Ultimate tier will see performance upgraded to RTX 4080 SuperPODs, which Nvidia claims will deliver over 64 teraflops of graphics horsepower to an individual user via the cloud.
According to the company, this is more than 5x the performance of an Xbox Series X and nearly 1.75x over the previous-generation SuperPODs, bringing it closer than ever to the feeling of a local gaming experience.
Ultimate users will be able to stream games at up to 240 frames per second from the cloud with full ray tracing and DLSS 3. With the addition of Nvidia's Reflex tech, Now achieves click-to-pixel latency below 40 milliseconds, which it claims is a first in cloud gaming.
Ultrawide monitors will also be supported for the first time, at up to 3,840 x 1,600 resolution, including many popular variants such as 3440 x 1440 and 2560 x 1080.
Current GeForce NOW RTX 3080 members will be upgraded immediately to Ultimate memberships, with new user sign-ups available today at $/€ 19.99 per month or $/€ 99.99 for six months.
"Nvidia's Ada architecture is a big leap in graphics quality, and through GeForce Now we're streaming an RTX 4080 experience to more devices and more gamers than ever," said Jeff Fisher, senior vice president of GeForce.
"GeForce Now Ultimate members will have the technology and the performance to experience even the most demanding games in their full ray-traced glory."
The GeForce NOW catalog now includes over 1,500 games, including recent day-and-date releases of Marvel's Midnight Suns, Warhammer 40,000: Darktide and The Witcher 3: Wild Hunt Next-Gen Update, as well as free-to-play titles like Destiny 2, Lost Ark and Apex Legends.