Gears 5 won't have a season pass, DLC maps will be free
No random paid for loot boxes or pay to win either, says The Coalition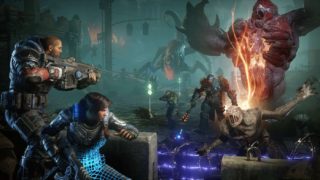 Gears 5 won't feature a season pass and all DLC maps will be released free of charge.
In a development blog outlining how users will be able to earn and pay for new content, The Coalition said it's "goal is to create a player-first experience".
Gears 5 will introduce a battle pass system called Tour of Duty, featuring daily challenges and seasonal medals to rank up and unlock new cosmetic items including character skins.
The title will feature a premium in-game currency called Iron, which is used to purchase exclusive customisation content from the game's store. Players can earn "a limited amount" of Iron through each Tour of Duty season, or they can buy it with real money.
"Content found in the store is direct purchase, meaning what you see is what you get. No Gear Packs, no randomness," The Coalition says. "We are committed to ensuring we preserve a fair competitive environment across our modes, so there will be no items in the store that provide a competitive advantage for real-money purchasers, i.e. no pay to win."
Players will also be able to purchase progression boosters. These will offer double multiplayer XP, double character XP for Escape and Horde modes, and double speed supply drop progression for a period of real-world time, such as a day or week.
Users will also unlock free Supply Drops by playing the game's multiplayer modes. These random item drops can't be purchased with real-world money. If you get duplicate items, they can be turned into Scrap, which can be used to craft other items or upgrade character skills.
Gears 5 will be released on September 10, 2019, although Xbox Game Pass subscribers on console and PC will be able to play four days early. A tech test for the game's versus multiplayer mode will go live on July 17.