Gears 5 will feature Halo Reach characters
Plus Horde mode detailed at Gamescom event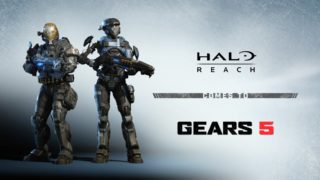 Xbox Game Studios has announced Halo-themed content for Gears 5.
The Halo: Reach Character pack is included in the Gears 5 Ultimate Edition or with Xbox Game Pass Ultimate and features the Emile and Kat multiplayer characters.
The Halo announcement follows an earlier crossover reveal at E3 2019, when it was confirmed that Sarah Connor from Terminator Dark Fate will also feature in Gears 5.
During its Inside Xbox Gamescom event, the platform holder showcased the game's new Horde mode, which features character abilities for the first time and playable Jack.
Lastly, Xbox confirmed that Gears 5 is now available for pre-purchase on Steam and will launch on all platforms at the same time, with cross-platform play.
Microsoft said in June that Gears 5 won't feature a season pass and all DLC maps will be released free of charge. It also provided the first details about the game's Tour of Duty battle pass system, as well as monetisation plans.
The Gears 5 release date is September 10, 2019 on Xbox One.