Gearbox in new Borderlands 3 voice actor dispute
Claptrap actor criticises studio for his absence from the game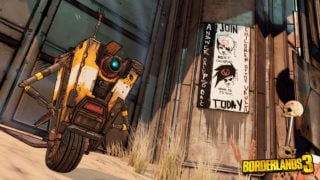 Gearbox has become embroiled in another row over the absence of a series voice actor in its upcoming loot shooter Borderlands 3.
David Eddings, the original voice actor for Claptrap – one of the Borderlands franchise's most popular characters – claimed on Twitter on Thursday that he wasn't reprising his role in Borderlands 3 because "for the first time, I insisted on getting paid for my performance and all of a sudden they couldn't afford me".
Eddings added: "Maybe next time they should put the $12M payment from 2K in the Gearbox bank account instead". This is likely in reference to money Gearbox CEO Randy Pitchford is alleged in a lawsuit to have received as a secret bonus.
Eddings served for more than a decade as Gearbox's VP of business development before leaving the company in 2017. He voiced the Claptrap character in addition to his primary duties. He is now head of games publishing at Rooster Teeth.
Responding to Eddings' tweet, Pitchford suggested the former Claptrap voice actor was "bitter and disgruntled" after being dismissed from his role at Gearbox.
"The issue today is that Mr. Eddings is bitter and disgruntled about having been terminated," he wrote. "He was offered 2x scale, he refused. I don't want him to do it unless he wants to do it, as motivation affects performance."
In a statement issued to IGN, Gearbox claimed it offered Eddings an "industry standard rate" for his services, but "were not able to reach an agreement".
Voice actor Jim Foronda will take over the role of Claptrap in Borderlands 3.
In April, renowned performance artist Troy Baker also criticised Gearbox for not asking him to reprise his role as a character in the game.
"I don't agree with how they're handling it… If they are going to bring back characters from Telltale's Borderlands, it should be the people who originated the characters," he said. "They shouldn't just recast willy-nilly, because I think as a fan that matters to me."
Pitchford later claimed Baker had turned down the opportunity to reprise his role in Borderlands 3, which the actor denied.