Game UK will swap your old console for an Xbox Series S for as little as £40
Special trade-in deal is available in stores until June 14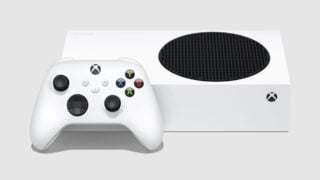 UK retailer Game has announced a new promotion that lets customers trade in their existing console to get an Xbox Series S for £99 or less.
The price depends on the console, so if customers trade in a Nintendo Switch they will get a Series S for £39.99.
If they trade in a PS4 Pro 1TB or an Xbox One X 1TB, meanwhile, they'll get the Series S for £49.99.
The Harlow branch of GAME has tweeted a chart showing the full list of trade-in values for each system.
The promotion will start from today (May 28) and last until Monday, June 14 and is only available in retail stores. A Game Reward account is required for the deal, which customers can sign up to for free.
Game says the traded in console must be in good working order, be of satisfactory quality and pass all security checks. It must also come with an official controller, HDMI cable, power cable and controller charging cable (if one is needed).
At $300 / £250, the Xbox Series S console is significantly cheaper than the $500 / £449 Series X, thanks to lower specs that target 1440p gaming instead of native 4K.
Series S is the smallest Xbox console to date, and is a digital-only system with no disc tray. It's designed to provide entry to next-gen gaming at a lower price than the Xbox Series X or the PlayStation 5.
It has a 512GB custom SSD and uses the same Xbox Velocity Architecture the Series X uses for fast game loading.
Xbox boss Phil Spencer has said he expects Series S to outsell Series X over the course of the generation, and has suggested Microsoft is already working on future Xbox Series console iterations.