Game Boy games on Switch could connect to N64, it's claimed
References to the Transfer Pak had previously been uncovered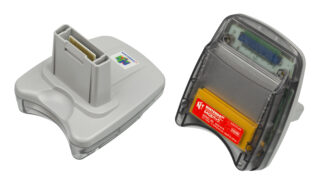 Game Boy games on Nintendo Switch Online could connect to N64 when the service launches, it's been claimed.
Emily Rogers, who has a strong track record of accurate Nintendo reporting, posted to Famiboards to claim that Nintendo has experimented with the possibility of emulating connectivity between the N64 and rumoured Game Boy games on Nintendo Switch Online.
"Nintendo tested multiple N64 games for Game Boy connectivity," she wrote. "Back in September 2021, I talked about Pokémon Stadium being one of those potential games."
The tweet Rogers is referring to stated that the N64 Pokemon title, which allowed players to import creatures from their Game Boy titles into the N64, would be feature similar connectivity on the Nintendo Switch Online service.
"I had even heard tiny whispers about Pokémon Stadium – a game that was never released on Virtual Console," the tweet read. "I'm not sure if that's still currently in the cards though. There may be challenges with that."
Speaking to VGC, respected dataminer LuigiBlood confirmed that the current N64 Switch Online app does include reference to Transfer Pak support in its code, but only to activate (on/off) the device, and nothing for the games themselves.
Nintendo has tested over 40 Game Boy Advance games for its Switch emulator, according to data pulled from a build leaked this weekend.
According to known dataminer MondoMega, more than 40 games are either included or referenced within the leaked GBA emulator files. As noted by the user, this doesn't necessarily mean they'll launch with any likely Game Boy Nintendo Switch Online service.
Files for the Switch emulators began circulating on social media this weekend, including a Game Boy emulator called 'Hiyoko' and a Game Boy Advance emulator named 'Sloop'.
Related Products
Other Products
Some external links on this page are affiliate links, if you click on our affiliate links and make a purchase we might receive a commission.