Gallery: Huge batch of Bowser's Fury screens show Mario's Switch adventure
Standalone adventure is included with Super Mario 3D World's Switch re-release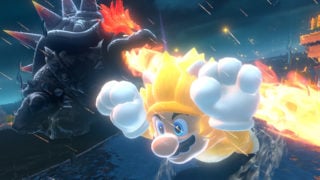 Nintendo has published almost 40 new screenshots showing Bowser's Fury, the standalone adventure included with next month's Super Mario 3D World re-release for Nintendo Switch.
Bowser's Fury is described by Nintendo as a "short but action-packed" free-roaming adventure which has Mario visiting Lake Lapcat, a world where everything is cat-themed and Bowser has gone berserk.
Players must team up with Bowser Jr – who can be controlled via a second player in co-op – and travel to various islands to collect Cat Shines, which reignite lighthouses and clear darkened terrain.
Set for release on February 12, 2021, Super Mario 3D World + Bowser's Fury features both online and offline co-op. New Amiibo figures Cat Mario and Cat Peach will also be released at the same time as the game.
The Wii U port arrives as part of Super Mario's 35th anniversary celebrations. In addition to 3D All-Stars – a collection of classic 3D Mario games – Nintendo has released several additional Mario games for Switch.