Gallery: Here's a new look at Pokémon Legends: Arceus
The game's official Japanese site has shared more screenshots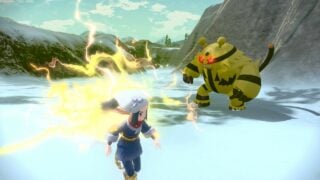 Nintendo has updated its official website for Pokémon Legends: Arceus with a new batch of screenshots.
As spotted by Nintendo Life, the new screens show off some of the game's environments, and demonstrate how the battle system looks.
It also shows players using various Pokémon to travel on the ground, across water and in the sky.
Pokémon Legends: Arceus was announced last February, alongside DS remakes Pokémon Brilliant Diamond and Pokémon Shining Pearl, during a presentation scheduled to coincide with the franchise's 25th anniversary.
Blending action and exploration with Pokémon's RPG roots, it features one of the most unique settings in the history of the series – the Hisui region, before it would eventually become the Sinnoh region.
Rather than the regular challenge of defeating gym leaders and the Elite Four to become a Pokémon master, Legends focuses on discovery, with players challenged with studying Pokémon in a bid to complete the region's first Pokédex.
In one of VGC's recently published 2022 game previews, we said developer Game Freak's decision to break from the franchise's usual formula could deliver the refresh the series needs.