Full version of Dreams now available to Early Access community
'Creator Patch' unlocks the game three days ahead of its official release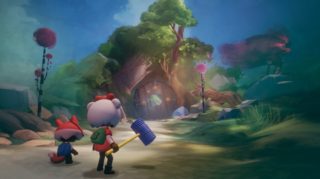 The full version of Media Molecule's Dreams is now available to download for the game's Early Access community.
The 'Creator Patch update' weighs in at about 8.7GB and unlocks the full version of the PS4 exclusive three days ahead of ahead of its official release date this Friday, February 14.
While the Early Access version of Dreams enabled users to create and share their work with the community, the full version also includes a short campaign built by Media Molecule using the same toolset offered to players.
"This feature film length adventure follows former jazz musician Art as he dreams about his life, past and present, and realises he needs to make amends with his fellow bandmates," according to Media Molecule communications manager Abbie Heppe.
"The journey takes him through a series of dream-like situations involving him and a whole cast of wonderful fantasy characters, such as D-Bug, a helpful little robot with an electric personality and Frances, a hammer wielding teddy bear. Will he get his shot at redemption, or will his dreams become nightmares?"
Additional content available in the final release includes fresh tools and tutorials, plus an updated UI, Heppe told the PlayStation Blog.
Heppe also said in December that Media Molecule has "some really cool stuff planned for post-launch too", with the studio working on PlayStation VR support, among other features.
Last week, presumably in error, the US PlayStation Store briefly offered the full version of Dreams for $29.99 – the same amount the cut-price Early Access version cost when it was available to buy between April and December 2019. The cost of the game soon reverted to its current and previously confirmed price of $39.99, but not before some players were able to snap it up cheaper.